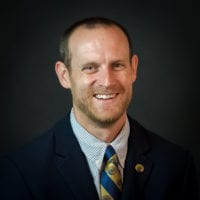 Christian Stryker, Coker University class of 2004, has been named the 2019 recipient of the Coker University Alumni Association's Outstanding Service Award. This prestigious award is given annually by the Coker University Alumni Association and is presented to a graduate who has highly demonstrated their commitment to Coker's ideals of character, culture and service.
Stryker earned a B.S. in physical education sports management, was a four-year member of the baseball team, received the Coaches Award, and was academic all-conference. He earned a M.S. in sports leadership from Duquesne University.
After graduating from Coker, Stryker worked in the Coker University admissions office and quickly moved into the sports information director role, which he held until 2016. While in athletics, he held many other roles including athletic fundraising, media relations, event administration, and was the senior associate athletic director from 2016-2018.
In 2018, Stryker joined the South Atlantic Conference as assistant commissioner where he is responsible for coordinating the SAC's media and public relations efforts, in addition to expanding the conference's digital and social media presence, and producing league publications.  Stryker also assists in enhancing the SAC's marketing and branding strategies, serves as the sport administrator for baseball and track and field, and is the liaison for the conference faculty athletic representative and athletic trainer committees.
Stryker is a member of the College Sports Information Directors of America (CoSIDA) and Omicron Delta Kappa. He served as a member of the NCAA Division II National Baseball Committee from 2009-2012, overseeing the southeast region. He also served on the NCAA Division II Softball Southeast Regional Advisory Committee and on the NCAA Division II Men's Soccer Southeast Regional Advisory Committee.
Currently, he serves on the NCAA Division II National Men's Golf Committee, overseeing the South and Southeast Regions.
Stryker lives in Rock Hill, S.C., with his wife, Tasha ('05), and their two daughters.