The Writer's Studio provides a rich, collegial environment where students collaborate and share their expertise to strengthen written communication.
The Writer's Studio prides itself on helping Coker students of ALL writing abilities. Beginning writers find experts who can help organize and present ideas, while more experienced writers find critical feedback that is an indispensable part of strong writing.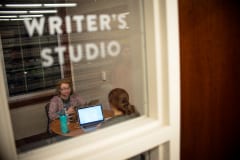 TUTOR TRAINING:
The Director of the Writer's Studio selects, trains, and supervises a staff of knowledgeable and accomplished peer writing consultants who provide individual conferences on a drop-in basis. They act as a resource to help each student expand and develop his or her repertoire of effective writing strategies, regardless of the student's level of writing experience.
The Writer's Studio at Coker University is a safe place where students take responsibility for their own development as writers and scholars, and actively participate in their learning. Peer tutors are educated in composition theory and pedagogy. They offer one-on-one conferences about any kind of writing at any stage of the writing process.
The Writer's Studio operates on noted writing scholar Stephen North's idea that the main purpose of a writing center is "to create better writers, not better writing." North asserts that tutoring should always be "student-centered, rather than text-oriented." In other words, a writing center is not a "skills center" or a "fix-it-shop" for grammar correction. Instead, it is a place where active student learning and enrichment are at the forefront of education.
The type of services that the Writer's Studio provides for students in the traditional Day program and Adult Degree Programs, are closely aligned with the latest thinking in the field, and with the liberal arts core that is at the center of our College's mission. The writing tutors' rigorous training via an academic course (ENG 363) that combines composition theory with pedagogy, gives them a strong understanding of the writing process, how to effectively engage a student in a tutoring conference, and perhaps most importantly, why they are approaching a tutoring session in a particular way. Through both theory and pedagogy, our consultants learn that every student is different and that they must tailor their session to an individual student, rather than approach every tutoring situation in the same manner. This approach resonates with the College's student-centered liberal arts focus. For more information about becoming a Writer's Studio tutor, please contact Dr. Jasna Shannon at jshannon@coker.edu or 843-383-8116.
Courtney Boan
Sydney Farmer
McKenzie Hite
Monte Jackson
Mary Laffidy
Robert McCready
Ariel Miles
Kyle Ocker
Kelli Smith
Eli Stewart
Eve Thompson
Sam Whaley
Sunday: 7-11 pm
Monday: 4-11 pm
Tuesday: 4-11 pm
Wednesday: 4-11 pm
Thursday: 4-11 pm
Friday and Saturday: CLOSED
For students in our online and/or off-campus programs, we offer online and e-tutoring through our WC Online service. Online help is by appointment only. Students can make appointments to work with a tutor either synchronously (online tutoring) or asynchronously (e-tutoring).

Evening students, bridge program students, online, and graduate students can access Writer's Studio services directly through WC Online technology.

Please contact the Writer's Studio (843-383-8187) for additional information and appointments, or contact the co-directors of the Writer's Studio: Dr. Jasna Shannon (jshannon@coker.edu, 843-383-8116) or Dr. Margaret Godbey (mgodbey@coker.edu, 843-383-8118).
Click here to schedule an appointment with the Writer's Studio