Music Ensembles
Travel.
Find New Friends.
Perform.
Experience the World — Through Music.
The ensemble opportunities at Coker University have so much to offer musicians of all experience levels. You can earn scholarships of up to $5,000 (on top of your other scholarships), and even get course credit for participation. More importantly, you'll have the chance to explore cultures and our world through the lens of music while making incredible friends as part of our music community.
Coker is perfectly sized for offering students like you music performance and training opportunities in a setting where everyone gets the personal attention that feels right for them. Ensemble members find expert instruction from faculty, as well as master class lectures from nationally recognized performers. You will also have the opportunity to travel and perform in a variety of local, regional, and national venues.
So, whether you're thinking about a career in music, or just love to perform and want to explore what's available for you at Coker, we have something for you. Keep reading to discover details about our different ensembles, scholarship information, and the low-pressure path to getting involved here!
Explore the Music Ensembles at Coker University

The Coker Singers is the only auditioned ensemble at Coker University, but that doesn't mean there isn't room for students with promising talent and a desire to hone their craft. This is a mixed choir open to all students who wish to audition, and members do receive course credit for participation.
Founded in 1908, the Coker Singers is the premier ensemble at the University. The size of the group changes over time, depending on current interest and participation. Some years we have a smaller, more intimate group, and other years we may have dozens of members.
One of the main focuses of this ensemble is to develop the individual musical potential of each singer. We also stress community outreach and engagement in our practice and performances.
In the past, we have traveled to Boston, Atlanta, Orlando, Philadelphia, New Orleans, and New York City. Memorable performances and engagements have taken the Coker Singers to the Lincoln Memorial in Washington, D.C. and both Carnegie Hall and St Patrick's Cathedral in NYC. Additionally, the Coker Singers perform at a variety of local venues and occasions, representing some of the most exceptional musical talent in the student body at Coker University.
The audition process for the Coker Singers begins with filling out a simple form to express your interest in the group. We collect this information through our Performing and Visual Arts website portal. Please note: this is a separate application process from your regular Coker University admissions application — the information we collect here is strictly related to your art/music interest at Coker.


Coker Cantilena is a non-auditioned treble choir (sopranos, altos, and countertenors) which is open to all students. Participants earn academic credit for participation. Coker Cantilena performances include a wide variety of choral literature. The repertoire includes selections from the traditional Western Classical canon as well as contemporary compositions from cultures and languages around the world. Participants give concerts on campus and in nearby communities. Primary performances include two concerts in the fall and one in the spring.


The Civic Chorale at Coker University is a non-auditioned opportunity for performers of all ages who love to sing. Volunteer members include students, faculty, staff, and residents of the Hartsville area, so the Civic Chorale is a wonderful way to enjoy music as a part of our larger community. Bi-weekly rehearsals take place September through April on Thursday evenings from 6:30–8:30 p.m. To register, please visit the Coker Community Music Program page here.


Do you love acting and musical theatre? Are you considering a professional performance career? The Opera Workshop at Coker University will let you explore important techniques in role preparation, character development, musicianship, acting, and movement through the study of fully-staged, one-act operas. Participants work with living composers and guest artists as they premiere and workshop new operas.
You'll engage with the creative process, release your inhibitions on stage, and explore artistic and creative limitations of the individual through theatre games and improvisation exercises. As you refine your acting and singing, you will also deepen your understanding of how music and drama affect one another.
Critical listening, creative body movement, and application of the techniques used in these processes are all areas you will enrich through the Opera Workshop experience. The course usually culminates in the production of operatic and/or musical theatre scenes designed around the students in the course. Opera Workshop may be taken for credit up to six different semesters.


Students and community members who play brass, woodwind, or percussion instruments are encouraged to participate in the Coker Concert Band. As a member of this non-auditioned group, you will perform classical and contemporary standards from the wind ensemble canon. Coker Concert band offers you the chance to perform in a variety of venues as you develop your individual skills, enjoy the larger music community in Hartsville, and earn academic credit! Learn more about this program by contacting Dr. Reed Hanna or emailing band@coker.edu
Meet Destany: Your Guide to Getting Involved
Interested in one or more of these opportunities? Then you need to meet our new Choral Enrollment Counselor, Destany Gause ('19). She will answer your questions, connect you with our music faculty, help you understand the ensemble scholarship opportunities, explain what to expect during a campus visit, and more. Text, email, or call her today.
As a freshman, I was super quiet. I mean, super shy! I definitely needed to get out of my comfort zone and find my place on campus, but I learned to take advantage of every opportunity that was given to me. Everything I was involved with at Coker gave me compassion and empathy for others. Now that I've graduated, I want to do everything I can to help new students. You really can be yourself and be accepted here! Text, call, or write to me — I want to hear what you're interested in and tell you more about the choral ensemble opportunities at Coker.

Destany Gause, ('19)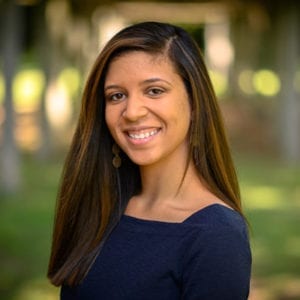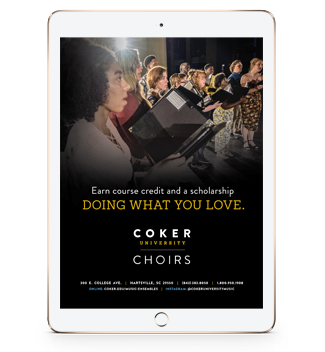 DOWNLOAD YOUR MUSIC ENSEMBLE BROCHURE
Anyone with a love for music can get involved at Coker. When you join one of our ensembles, you'll find camaraderie. You'll travel near and far. You'll work with guest artists. You'll receive training from Coker's dedicated and talented faculty. And, as a bonus, you'll earn course credit for participating!
Scholarships for Chorale Ensemble Members
Students may be eligible for ensemble scholarships ranging from $1,000 to $5,000 in addition to other scholarship awards and financial aid. Music faculty members will work with the financial aid office to determine the amount of any ensemble scholarship awards.
It is not usually necessary for students to complete a formal audition to be considered for these scholarships. Often, a brief meeting or interview with a faculty member is sufficient for them to make a recommendation to the financial aid office. We work hard to present visiting students with an official financial award letter before they leave campus after their visit.
Where will your passion for music take you?
These are just some of the highlights from past ensemble performances and trips.
Meet Your Music Faculty, Staff, and Guest Artists
All of the faculty and staff are here to help you succeed during your time at Coker and long after graduation. The music program and community we have cultivated are an exceptional part of campus life. Whether you are a music major, minor, or just want to explore music as an elective, you will find exciting ensembles, valuable applied lessons, and memorable academic courses.
In addition to instruction from our faculty, you will benefit from master classes, lectures, and workshops with nationally-recognized guest artists in a much more intimate environment than a large university. We're small enough to give personalized attention to students like you honing your craft and still offer the same amenities and benefits of a large institution.
Meet the Faculty and Staff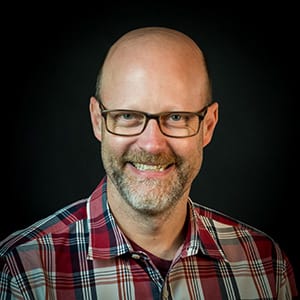 Graham Wood
Professor of Music; Co-Coordinator of the Music Program
"On my first visit to campus, I was made to feel so welcome that I felt this would be the place to continue my academic career. At Coker, a conversation, a…
View Graham's Profile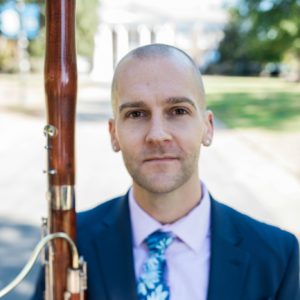 Reed Hanna
Clinical Faculty in Music; Coordinator of Instrumental Studies; Director – Coker University Concert Band
"I love the one-on-one connections between faculty and students at Coker, and being able to interact and collaborate with other people in the School of Visual…
View Reed's Profile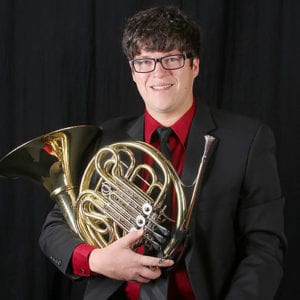 Nicholas Fife
Adjunct Instructor of Music – Brass; Director of Coker College Brass Ensemble
"The most exciting aspect about working at Coker is getting to work with all of the brass students. The brass studio is small enough that I get to teach all…
View Nicholas's Profile
Get Involved or Find Out More Information
We are delighted that you are exploring the rich tradition and exciting opportunities for ensemble performance at Coker University! If you have questions, want to schedule a campus visit, or get more information about an ensemble scholarship, contact Destany Gause ('19) or fill out the inquiry form above. Text, email, or call her today.