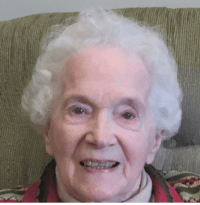 Virginia Claire Creel McKenzie died on Monday, May 25, 2020, surrounded by her family, after a long journey with Alzheimer's dementia. Born November 30,1927 in Johnsonville, SC, she was the first daughter of the late Willie Clarence and Eunice Venters Creel. After receiving her diploma from Johnsonville schools, she graduated Magna Cum Laude with a Bachelor of Arts in Social Science from Coker College in 1948. After marrying her lifelong sweetheart, Charles Middleton McKenzie, of Lake City, SC in 1949, she taught in Lake City schools and later at Wardlaw Junior High in Columbia, SC. She sang in the adult sanctuary choir at Park Street Baptist Church for over 65 years, served as a junior high Sunday School teacher, and taught the senior adult ladies' Sunday School class in her later years. She was a loving and devoted mother and wife and a faithful servant of Jesus Christ.
In addition to her husband and her parents, she was predeceased by five brothers, Willie Clarence Creel, Robert Clifton Creel, Warren Hugh Creel, David Venters Creel, and James Nevin Creel, and her sister, Harriet Ann Creel Carraway. She is survived by a son, Dr. Charles "Mike" Middleton McKenzie, Jr., and his wife, Rebecca McPhail McKenzie, of Columbia, SC; a daughter, Kay McKenzie Holder, and her husband, Mike, of Brevard, NC; and a daughter, Carla McKenzie Stegall, and her husband, Chris, of Columbia, SC; seven grandchildren—Hunter, Katie, and Sally McKenzie; Ashleigh Holder; and Mitchell, Elliot, and Meredith Stegall, and many nieces and nephews.
The family wants to express gratitude to the compassionate and loving staff and caregivers of Carroll Campbell Place in Lexington, SC. In celebration of her life and legacy, a private, graveside service will take place with family. Memorials may be made to Johnsonville United Methodist Church (PO Box 449, Johnsonville, SC 29555) or the charity of one's choice.