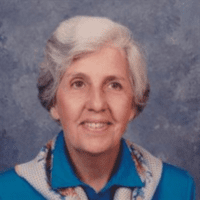 Alice Thomas (nee Stuckey), age 87, went to Heaven on Tuesday, May 19, 2020, after an extended illness. A lifelong resident of Hartsville, South Carolina, she was the daughter of the late Cleon Carson Stuckey and Allene Hanna Stuckey.
After graduating from Coker College with a degree in Elementary Education, she taught at Hartsville Junior High School, Emmanuel Christian School, and John Wesley Academy. She loved teaching, and she loved her students.
She was a member of Forest Hills Baptist Church, Hartsville, South Carolina, where she worked with children as a Sunday school teacher, as well as picking up children and families on the church bus to bring them to Sunday morning services. She will be greatly missed by many.
Alice is survived by her daughter, Rena Fish (Mike) of Merrillville, Indiana; and son, Frank Thomas (Marilyn) of Columbia, South Carolina; six grandchildren: Michael Fish (Laura), Joseph Fish (Dianne), Hanna Fish Jones (Jeremy), F. David Thomas, Jameson Thomas, and Ella Thomas; and two great-grandchildren: Evelyn Fish and Eli Fish, with another great-grandson on the way; and her brother, James "Jim" Stuckey (Barbara) of Easley, South Carolina. She was preceded in death by her beloved husband Wilbur Thomas; her parents, Cleon and Allene Stuckey; her sisters: Margaret Nolan, Mary Byrd, and her twin sister, Allene Reep.
A memorial service will be held on Friday, May 29, 2020 at 2:00 p.m. at the Forest Hills Baptist Church, 317 Forest Hills Drive, Hartsville, SC 29550. Visitation will be from 1:00 – 2:00 p.m. prior to the service. Rev. Jim Murray and Rev. Tom Lancaster will officiate. A private burial will be at Westview Memorial Cemetery, Hartsville, South Carolina. Norton Funeral Home in Hartsville, South Carolina is handling those arrangements. Memory Lane Funeral Home, 6305 W. Lincoln Highway (US 30), Crown Point, Indiana is handling the arrangements in Indiana. For further information you may contact the funeral home at (219) 322-2050. www.memorylanepark.com
Memorials may be made to Forest Hills Baptist Church, 317 Forest Hills Drive, Hartsville, SC 29550