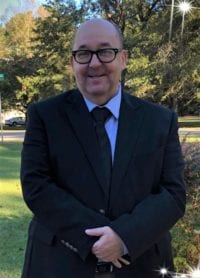 John David Smith, age 67, passed away on Thursday, March 4, 2021 at his residence.
John was born September 4, 1953 in Laurinburg, NC to the late Alex David and Mary G. Williams Smith Smiling. He was a devoted member of McColl Church of God. He loved his dogs and enjoyed football, especially anything that had to deal with the North Carolina Tar Heels.
John leaves behind to cherish his memory, son, John "Jay" Smith (Jessica) of McColl; daughters, Shannon Smith Flowers (Ricky) of Hartsville, Sherri Ransom of McColl; sisters, Martha Thrower (Frankie), Naomi Smith; close friend and mother to his children, Susan Kim Sierra; six grandchildren and 2 great grandchildren.
He was preceded in death by his parents listed above, brothers, Gerald Ray Smith, Donald Everette Smith; sister Melba Bodgen.
Funeral Services will be held at 2:00 P.M. on Sunday, March 7, 2021 at Rogers Funeral Home.
***Due to COVID-19 and the regulations set forth by the CDC and local governments we ask that all attendees please abide by the social distancing guidelines and wear proper facial coverings. ***
Memorials may be made to Scotland County Humane Society, 1401 West Blvd, Laurinburg, NC 28352.
Online condolences may be made to www.rogersofmccoll.com.
Rogers Funeral Home is honored to assist the Smith family.
To send flowers to the family or plant a tree in memory of John David Smith, please visit our floral store.