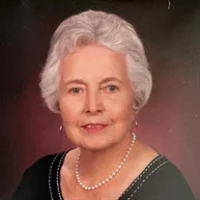 Rachel Collier Flowers joined her heavenly celebration on March 8, 2022, after a long, fulfilling life of service to her family, church, and community.
She was born on February 1, 1931, in Florence, South Carolina, to Thomas Key Collier and Iva Lee Harrison Collier. She graduated from Darlington High School and Coker College before earning a Master's Degree from Winthrop College. Yet, her passion for education continued throughout her career. She worked in the business school at Coker College and taught typing at Hartsville High School. After taking time to raise her three children, she resumed her career teaching fourth grade and later gifted and talented students at Thornwell Elementary School. Highlights of this time included field trips to New York City to see the Broadway musical Cats.
When she wasn't in the classroom or with her family, Mrs. Flowers enjoyed playing bridge with friends, attending events at the John L. Hart House, and serving in countless positions at Swift Creek Baptist Church. She was selfless in her dedication to her children, grandchildren, and later great-grandchildren — all of whom made her proud and brought her immense happiness.
She is survived by her sister, Leah Collier Crawford; children, Keith Dargan (Becky) Flowers, Jr., Claire Flowers (John) Shell, and Donald Maurice (Pam) Flowers; grandchildren, Bradley Dargan (Maggie) Flowers, Stephen Keith (Morgan) Flowers, Amy Flowers (Caleb) Miller, Catherine Shell (Martin) Ryan, John Clinton (Kayla) Shell IV, Justin Brooks Flowers, and Peyton Key Flowers; and great-grandchildren, Colton, Weston, Dalton and Charleston Flowers, Anna Crawford and Thomas Flowers, Naomi and Jed Miller, Adelaide, Jack and Theodore Ryan, and Fields Shell.
In addition to her parents and sister Thomasina Collier, she was preceded in death by her husband of 49 years, Keith D. Flowers — with whom she has no doubt joyfully reunited.
Memorials can be made to the Swift Creek Baptist Church Endowment Fund or a charity of your choice.