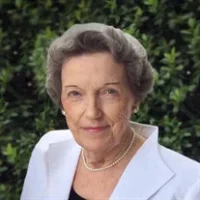 Margie Connell Stuckey, 92, passed away peacefully on Monday, March 7, 2022. She was the daughter of Clyde L. Connell and Zelma Knight Connell. She graduated from Hartsville High School in 1946 and Coker College in 1950.
Margie married Thurston Parrott Stuckey on December 9, 1950, and they went on to have two sons, Dwight Clyde Stuckey (Mary Catherine) and Mark Thurston Stuckey (Frances). After working at the First Baptist Church, Coker College, and Sonoco, she excelled at home, taking care of her three boys.
Margie was baptized in the chapel at First Baptist Church in 1940. She was a lifelong faithful servant of the Lord and loved First Baptist Church. She was almost always in church school, worship service, and other church activities. She loved to read her bible daily and took great pride in studying each chapter as she prepared to teach Sunday school for several decades.
Margie loved her bridge and supper club friends deeply, and she was devoted to their friendship and well-being. She loved to help all people in a quiet, simple way, and she had a knack for making you feel special.
Margie had high expectations for herself and her family. From first grade through college graduation, she made all A's. She believed we should do our best in all of our work and play and that we should help people in every walk of life.
Margie and Thurston loved one another deeply, and that was clear. They loved the mountains, the beach, and traveling most anywhere, including going to Clemson football games for years. Their greatest joy came from within their family as they watched the growth and happiness of their children, grandchildren, and great-grandchildren. Margie and Thurston were devoted to each other for sixty years until his death in 2010. She often talked of how much she missed Thurston, and on March 7, 2022, Gamma and Pop were surely smiling at each other again.
In addition to her two sons, Margie leaves behind five grandchildren, Caroline (William) Mills, Elizabeth (Blaze) Delgado, Cam Stuckey, Mary Knight (Tyler) Felt, Josh (Sarah) Stuckey; three great-grandchildren, Gray Delgado, Perkins Mills, Robert Felt; and a brother, Bill Connell.
The family would like to express their heartfelt gratitude to Linda Johnson, Vera Mills, and Pearlie Floyd for all of the kindness and care have shown to our mother.
Memorials may be made to the First Baptist Church,104 E Home Ave, Hartsville, SC 29550, or the Connie Maxwell Children's Home, 212 Zoar Rd, Chesterfield, SC 29709.