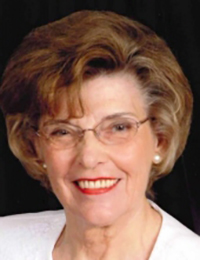 Peggy Lynette Cantey Gardner, 87, widow of Theodore "Ted" Bonham Gardner, died Friday, August 27, 2021, at her home surrounded by her family.
Born March 8, 1934, in Williamsburg County, she was a daughter of the late Mitchell Lamar Cantey and the late Nelle Buddin Cantey. She was a charter member of New Covenant Presbyterian Church where she was a member of the Women in the Church, the Jesus Girls Bible Study Group, and the Terminal Sunday School Class.
Peggy graduated from Manning High School in 1952, Coker College in 1956 with a BS Degree in Business Education and earned a Master's Degree in Special Education from the University of South Carolina in 1978. She taught in Clarendon and Sumter Counties. She loved her students and in turn they loved her. She was a member of the Clarendon Pilot Club and served as treasurer for several years. Peggy loved her friends that she played Bridge with in their Thursday Afternoon Bridge Club for over 60 years.
She is survived by four children, Mitch Gardner (Cathy) of Manning, Meri Lyn Rogers (Rev. Tim) of Marion, Michele Williamson (Dickey) and Bon Gardner (Vanessa), both of Manning; seven grandchildren, Smith Gardner, Rebecca Gardner, Emily Rogers Evans (John), Will Williamson, Anne Williamson, Van Gardner and Cantey Gardner; two great grandchildren, Rachel and Matthew Evans; a sister, LaNelle Cantey DuRant of Manning; a sister-in-law, Sarah Shaw of Andrews; a niece, Ramona Jacocks (Mitchell) of Lexington; a nephew, Dr. Robert DuRant (Farrow) of Mt. Pleasant; and a chosen son, Archie Green (Cecelia) of Manning.
A graveside service will be held at 4 p.m. on Monday, August 30, 2021, at the Manning Cemetery with the Revs. Marty Hodge and Tim Rogers officiating.
Pallbearers will be her grandsons and King Cutter & Archie Green.
Honorary pallbearers will be Dr. Robert DuRant, Renny Buddin, H.B. Buddin and Justin Currie.
The family will receive friends at the residence, 344 Briarcliff Street, Manning.
The family would like to thank Daisy Graham, Diane York, Georgianna McKnight, Beth Evans, Almetta Dixon, Juanita Rudd, Jenny White, and Amedisys Hospice for their compassionate care.
Memorials may be made to New Covenant Presbyterian Church, 2833 Alex Harvin Highway, Manning, SC 29102, and the Clarendon Pilot Club, c/o Donna Thames, 2318 Stone Road, Manning, SC 29102.
Stephens Funeral Home & Crematory, 304 N. Church Street, Manning, is in charge of the arrangements, (803) 435-2179. www.stephensfuneralhome.org