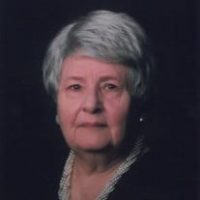 Mrs. Mildred Watts Graves, 100, of Myrtle Beach, SC, formerly of Pageland, SC passed away peacefully on Thursday, September 2, 2021 at her home after an extended illness.
Mrs. Graves was born on January 6, 1921 in Pageland, SC to the late Lex Blair Watts and Atha Brewer Watts. Mrs. Graves moved from Pageland, SC to Florence, SC in 1998 and years later to Myrtle Beach, SC. She was a member of First Baptist Church of Pageland. She graduated from Pageland High School and attended Coker College. At one point she was scheduled to transfer to Winthrop University but decided instead to become a book keeper for her father's business. She developed a career in floral design, working at two shops in Pageland before being recruited by Roy White's Flowers in Charlotte where she was the wedding consultant and floral planner. In time she was considered one of the best floral designers in Charlotte. In Pageland she was often asked by a friend or relative to make a loved one's casket spray, using a local shop, because she did such beautiful work. She was a devoted daughter, mother, relative and friend. In her retirement she developed a passion for sketching and painting various subjects, especially flowers. At the age of 79 she learned how to operate a computer and use a greeting card program. This became her favorite hobby. She loved designing special cards for friends and family, inserting rare family pictures she had accumulated over the years. To her immediate family's benefit, she was also known as an excellent cook. She is preceded in death by her husband of 31 years, Lenson Charles Graves; sister, Billie Betts Watts; brothers, Lovell Blair Watts and Jack Brewer Watts (Margaret); niece, Cheryl Ann Watts; grandson, Thomas Henry Smith II and granddaughter, Amy Odell Reinecke (John).
Mrs. Graves is survived by her sons, Larry P. Graves (Dianne)
of Florence, SC and Sherrill B. Graves (Melanie) of Marion, SC; daughter, Carol Smith (Thomas) of Florence, SC; nephews, David C. Watts and Joel B. Watts of Miami Springs, FL; niece, Nancy T. Watts of Miami Springs, FL, eight grandchildren, twenty-five great grandchildren and five great-great grandchildren.
Friends may come by Baumgartner Funeral Home to sign the register book from 11:00 AM – 2:00 PM Sunday, September 5, 2021.
A Celebration of Life Graveside Service will be held at 11:00 AM on Tuesday, September 7, 2021 at First Baptist Church of Pageland Cemetery with Dr. Joel Dale officiating.
In lieu of flowers, memorials may be made to First Baptist Church, PO Box 126, Pageland, SC 29728.
We would like to express our deep appreciation and gratitude to the Myrtle Beach Hospice organization's nurses and CNAs that have cared for her the past two years as well as Tim Arthur's Mobile Meal Service supported by nine local churches that delivered a hot lunch to her five days a week. Also, we want to thank her grandson, Scott Graves who lived with her and took care of her daily needs, as well as relatives, living two houses away, Donnie and Teresa Rossignol for providing emergency support, in addition to bringing her a nice lunch every Sunday.
Baumgartner Funeral Home of Pageland, South Carolina ( www.baumgartnerfh.com) is assisting the Graves family.