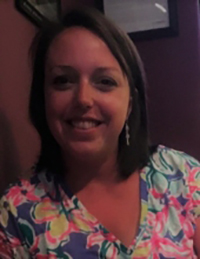 Megan Greene Baynes Wainwright, 37, of Newberry died Wednesday September 1, 2021 at her home surrounded by her family.
She was born in Cincinnati, OH on August 28, 1984 to Edwin E. and Susan Greene Baynes, the youngest of three children.
Throughout her life, Megan has always been an active participant in the things that mattered most to her, her church and her family. During high school she was a cheerleader and was active in the Young Life Program at the Nazerene Church. She excelled in academics, graduating high school with over 18 college credits.
She completed most of her college courses at Ball State University "Chirp Chirp", ultimately graduating from Coker College, where she also worked several years as the Advancement and Events Planning coordinator.
Upon moving to Newberry, Megan immediately became active in the community and supporting her family in their endeavors. She was an active member in First Baptist Church of Newberry and was a part of the Women's Ministry Group. Megan served at President of the Parent Teachers Association at Gallman Elementary School, was active in the MOPS Group in Chapin, and a was volunteer with the Girls Scouts. She was Team Mom for the Newberry College Wrestling Team – baking cookies for the team, welcoming them into her home to share holiday meals, supporting them during competitions, and just making sure the players, the coaches, and all participants felt nurtured and cared for during their time at Newberry College.
Megan was loving and caring and found enjoyment in decorating for every season – traits she has instilled in her daughter. She had a sense of humor about her and found joy in flying the Ohio State flag, despite Cy's protests. Megan was a 'craft engineer' always finding new projects to try at home. She was an avid sports fan – it did not matter the sport, she loved them all- and she loved traveling, experiencing new things, and charcuterie. Above all else, Megan loved her family, and to know her was to know a woman of unwavering faith; a devoted and dedicated mother, sister, daughter, and wife.
Megan is survived by her husband, Cy Wainwright and their children, Amelia Greene and Ryland Philip Wainwright; her parents, Edwin and Susan Baynes of Cincinnati, OH; brothers, Andrew (Amanda) Baynes of Knoxville, TN and Dustin (Linda) Baynes, of Cincinnati, OH; niece, Amira Baynes, and nephews, Charlie Baynes and Samuel Baynes. She is also survived by several aunts, uncles, cousins, and in-laws, Phil and Connie Wainwright.
She was predeceased by her grandparents, Martha and Henry Davenport and Ralph and Geneva Baynes.
Funeral services to honor Megan's life will be held at 1 PM, Tuesday, September 7, 2021 at First Baptist Church, Newberry led by Rev. Dr. Albert Allen.
The family invites friends to visit with them on Monday, September 6 from 4 to 6 PM at Whitaker Funeral Home Newberry.
A celebration of life will also be held in Cincinnati, OH at a future date.
Memorials are suggested to the Leukemia/Lymphoma Society, www.lls.org.
Memories and condolences may be shared with Megan's family on her tribute wall.
Whitaker Funeral Home is honored to serve the family.