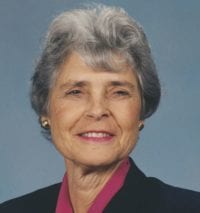 Patricia Robbins Bullock (Pat) passed away on Nov. 17 after a short illness, just short of her 91st birthday.
Pat grew up in South Carolina with two younger sisters (Elsie and Betty). After finishing at Coker University, in Hartsville, S.C., she moved north when she married her husband Charles Bullock in 1948. They had four boys and eventually moved to Cazenovia in 1964.
When Charles died in an airplane crash in 1967, Pat entered the teaching profession. She taught first and second grade in Cazenovia for 15 years. She then retired to sell real estate, travel with family and friends, and be a grandmother to her 10 grandchildren (Jessica, Dan, Mollie, Jake, Sophie, Heather, Holly, Heidi, Hillary and Thanakon).
In the later years of her life, her sons Doug and Bernie, and especially their wives, Laurel and Wiphawadi, took a major role in caring for her. She spent several years in Dubai, UAE and then the last few years in Florida with Bernie.
She and her husband Charles were instrumental in establishing Eastern Hills Bible Church in Manlius. Her faith in the promises of Jesus enabled her to endure the premature death of her husband and two sons (Bruce and Robin) and to bravely endure the ailments of aging, while remaining a spirited conversationalist, full of warmth and Southern Charm. By this same faith she was more than ready to meet her Maker and Savior, (after all, she did love to travel and meet new people).
A memorial service will he held for her at Eastern Hills Bible Church, in Manlius at 1:30 p.m. on Dec. 2. The service will be broadcast over the Eastern Hills Facebook page.
Memorial gifts can be sent to Eastern Hills Bible Church, 4600 Enders Road, Manlius, NY 13104.