Ann Woodle Cassidy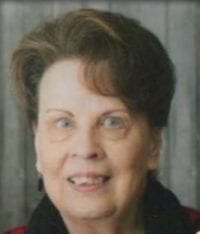 Ann Woodle Cassidy, 75, passed away November 28, 2018 at her residence. Born in Latta, SC on October 5, 1943, she was the daughter of the late Jasper D. Woodle, Sr. and Elsie Pelt Woodle. Mrs. Cassidy was the widow of the late Dr. Pete Cassidy.
Funeral services will be held Sunday, December 2, 2018 at 2:00 p.m. at Cayce First Baptist Church with burial in Southland Memorial Gardens directed by Thompson Funeral Home of West Columbia. Visitation will be 1:00-2:00 p.m. prior to the service.
Mrs. Cassidy received a Bachelor's Degree from Coker University where she met her future husband, Dr. Pete Cassidy. She spent much of her life as a devoted wife, mother, and grandmother. She was a member of First Baptist Columbia. She shared the love of Christ alongside her husband as he served as a Baptist pastor for over 54 years.
Survivors include her sons, Art Cassidy (Sophie) of Kennesaw, GA; Greg Cassidy (April) of Cayce, SC; brothers, J.D. Woodle Jr. (Gail) of Dillon, SC; Malcom L. Woodle of Dillon, SC; grandchildren, Heather Cassidy Smith (Corey) of Acworth, GA; Addison Cassidy (Cierra) of Kennesaw, GA; Kirsten Cassidy of Kennesaw, GA; Brandon and Haley Cassidy of Cayce, SC; great-grandchildren, Riley and Rosaleigh Cassidy and Jaxon Smith.
In lieu of flowers, memorials may be made to Cayce First Baptist, 600 Holland Ave., Cayce, SC; or Gideons International, PO Box 140800, Nashville, TN 37214-0800.