Patricia Huggins Dampier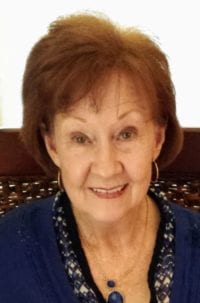 SEPTEMBER 23, 1947
~
SEPTEMBER 26, 2018
Memorial service for Patricia Huggins (Pat) Dampier, age 71, will be held Friday at 3:00 at the Kelleytown Baptist Church. Rev. Rod Elliott and Mr. Travis Walters will officiate. Visitation will be from 2-3 pm at the church followship hall and other times at the residence at 1412 Georgian Drive.
Pat was born in Hartsville a daughter of the late Doode and Edith Johnson Huggins. She was a member of Kelleytown Baptist Church, which she loved very much and she loved gardening. She was retired from Coker University after 25 years of service. She was a loving wife, mother, grandmother, sister and loved her many friends.
Surviving are her husband, William Howard Dampier, Hartsville; two sons, Brent (Kasey) Dampier, Whitsett, N.C. and Adam Dampier, Raleigh, N.C.; two granddaughters, Lila and Grace Dampier, Whitsett, N.C.; three sisters, Eloise (Keith) Blackmon, Bethune, Billie Newman, Lugoff and Sharon (Johnny) Sturdivant, Hartsville; her mother in law, Ruby Mae Dampier, Hartsville; special niece, Allison (Lyle) Lee, Columbia; great nephew, Harrison Lee, Columbian. She was preceded in death by two brothers, Mendell Huggins and Byron Huggins; one sister, Anne Brown.
Memorials may be made to the Kelleytown Baptist Church, 2609 Kelleytown Road, Hartsville, S.C. 29550.
Norton Funeral Home is honored to serve the Dampier family.