Joan Tews "Mimi" McLeod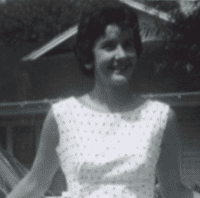 June 9, 1932 – August 30, 2018
Joan Tews "Mimi" McLeod, died peacefully on Thursday, August 30, 2018 in Hillsborough, NC, after a long and courageous battle with breast cancer.
Ms. McLeod, a resident of North Myrtle Beach, SC, was born in Milwaukee, Wisconsin, on June 9, 1932. She was a graduate of Coker University in Hartsville, SC. An artist and an educator, Mimi spent many years as an art teacher in Hartsville.
After her retirement, she moved to Chapel Hill, NC, where she could cheer on her beloved UNC Women's Basketball team. She loved attending games and traveling with the team around the United States and the world. As much as she loved Tarheel basketball, she was a devoted fan of the Clemson football team. She raised a family of educators and coaches and traveled extensively to follow their games as well as those of her grandchildren.
Mimi enjoyed meeting new people and was the life of the party wherever she went. She never met a stranger, including the many she met while jumping over bonfires on Franklin Street after a UNC National Championship.
She is predeceased by her parents, George H. and Ilma Tews and Jane Bennett Strong and her first grandchild, David Dorn.
She is survived by her children, Andrew Calder of Chapel Hill, NC, Vicki Dorn (Craig) of Hartsville, SC, Laurie Calder-Green (David) of Hillsborough, NC, and Tamara Jacobus (John) of Rock Hill, SC as well as her brothers Robert Tews and Michael Strong and sister Katherine Tews Wilson. She is also survived by grandchildren Paul (Sara), Emily (Ashley) and Hannah Roberts, Drayton Dorn and Kerry Calder Dorn and John David Jacobus, as well as three great-grandchildren, Audrey and Carter Roberts and Lily Kate as well as her beloved dog, Bella.
Funeral services will be held at 1 o'clock on Monday, September 3, 2018, in The Chapel of Brown-Pennington-Atkins Funeral Home, with a graveside service following. The family will receive friends one hour prior to the service.
Those wishing to donate in lieu of flowers should donate to the David Dorn Memorial Scholarship Fund, 903 Red Maple Court, Hartsville, SC, 29550.