Norman A. Belge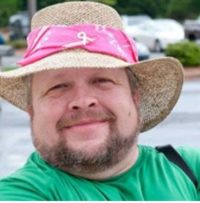 April 13, 1959 – April 25, 2018
Norman Albert Belge, 59, of Florence, SC passed away April 25, 2018.
Norman was born in Buffalo, NY a son of the late Albert Carl Belge and Elizabeth Harris Belge. Mr. Belge was a graduate of Wilson High School from 73-76. He was an art & religion major graduate of Coker University from 79-81. Norman was a veteran of the United States Army. He was a member of St. Anthony Catholic Church since 1965, but was involved in several local fellowships including Church at Sandhurst.
He is survived by a brother, Arthur Leonard (Amanda) Belge; two sisters, Ann Marie Saunders and Donna Belge (Moses) Smith; a step-mother, Carol Belge; eight nieces, Tina Belge (Jacob) Pocta, Laura Belge (Kyle) Smithwick, Michele Belge (Saun) Nichols, Sandra (Troy) Anderson, Elizabeth (George) Lewis, Kathyrine (Paul) Vannoy, Jessica (Fred) Everidge and Amelia (Nicholas) Brewington; two nephews, Lance (Carrie) Saunders and Daniel (Irene) Smith; seven great-nieces and 10 great-nephews; thirteen cousins, special family friends, Leslie and Tommy Korfeh and their daughters, Albany and Allese, and numerous friends.
The family will receive friends from 10 – 11 AM Thursday, May 17, 2018 at St. Anthony Catholic Church with a Mass of Christian Burial to be said at 11:00 AM. Burial will follow in Florence Memorial Gardens Cemetery directed by Stoudenmire-Dowling Funeral Home.
After the burial, his family and friends are invited to a lunch reception for a celebration of his life at the Church at Sandhurst. His friends are welcome to come and share their memories of Brother Norm. If you have a piece of his artwork or a painting, please bring it or take a picture and share it with his family.
Please visit the online condolence page for Mr. Belge at www.stoudenmiredowling.com