Winnie Allen Byrd King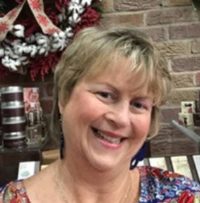 May 20, 1960 – April 27, 2018
Funeral services for Mrs. Winnie Allen Byrd King, 57, who entered into rest on Friday, April 27, 2018, will be conducted at 4 o'clock on Tuesday, May 1, 2018, in the Church of Jesus Christ of Latter-day Saints, Hartsville Ward. Bishop Heber J. Watson will officiate the service. Burial will follow in the Bethlehem United Methodist Church Cemetery. The family will receive friends one hour prior to the service at the church. Brown-Pennington-Atkins Funeral Home is serving the family.
Memorials may be made in her honor to the Connie Maxwell Children's Home, 810 Maxwell Avenue, Greenwood, SC 29646.
Born in Darlington County, SC, she was a daughter of Elsie Allen Byrd and the late Gary Evans Byrd, Jr. She was the owner of Heartfelt Flowers and More. Previously she worked as a guidance counselor for the Florence County School District. She was a member of the Church of Jesus Christ of Latter-day Saints. She was a graduate of Thomas Hart Academy, Coker University, and Webster University, where she obtained her Master's Degree in Counseling and Human Resource Development. Her passions in life were making people happy through her flower arrangements, helping others, and loving her family and grandchildren.
She is survived by her loving husband, Freddie King of Hartsville, SC; sons, Evans (Ariel) Braddock of Lake Charles, LA, Myles (Jovanna) Braddock of Oahu, HI, Logan Braddock of Hartsville, SC, Landon King of Hartsville, SC; daughter, Gabrielle (Zachary) McJunkin of Clermont, FL; mother, Elsie Allen Byrd of Hartsville, SC; grandchildren, Audrey Braddock, Colin Braddock, Noah McJunkin, Emery McJunkin, Windsor Braddock, August Braddock, Logan "L.J." Braddock, Jr.