Nancy Phillips Sebastianelli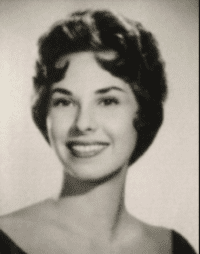 Nancy Gail Phillips Sebastianelli entered into eternal rest on Tuesday, April 30, 2019. She was the beloved wife of Armand Sebastianelli; devoted mother of Lisa Sebastianelli (Rice), Julie Sebastianelli (Argo), and Daniel Sebastianelli, and loving sister of Libby Phillips Meggs. Nancy is also survived by nephew, Andrew Meggs, and nieces Elizabeth Meggs and Teresa Sebastianelli (Dunkle), as well as a host of extended family, friends, students, and people that she touched throughout her life.
Born October 4, 1937 to Fred Wilson Phillips and Sara Buzhardt Phillips, Nancy grew up in Greenville, South Carolina. She graduated from Greenville High School and went on to study at and graduate from Coker College in Hartsville, S.C. A Fairfax County elementary school teacher by trade, Nancy touched the lives of countless students at Groveton, Cardinal Forest, and Fairview Elementary Schools. Her gentle, soft-spoken demeanor coupled with her creativity and attention to beauty and detail made learning a joy and adventure for all.
Nancy loved flowers and the gardens she and her husband kept were cared for meticulously so that all who saw them could see and experience beauty as they passed their home. She loved cats, the daily Washington Post crossword puzzle, watching the television show Jeopardy nightly with her husband, and traveling.
Selfless and self-sacrificing throughout her entire life, she devoted most moments to others and did this with joy. She was continually solicitous for the well-being of family, friends, parishioners at Church of the Good Shepherd Episcopal Church, and people she met. Nancy loved Jesus Christ with her whole heart and that love permeated her entire life.
Friends are invited to visit with the family on Sunday, May 5, at Fairfax Memorial Funeral Home, 9902 Braddock Road, Fairfax, VA, from 4-7 p.m. A funeral service is scheduled for 12:30 p.m., Monday, May 6 at Church of the Good Shepherd Episcopal Church, 9350 Braddock Rd., Burke, VA. Interment will follow at Fairfax Memorial Park.
Memorial donations in Nancy's name can be sent to El Hogar, 21 Cummings Park Drive, Suite 238, Woburn, MA 01801 or at www.elhogar.org El Hogar, provides homes and education for extremely impoverished children in Honduras.