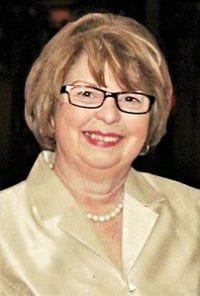 Nancy Elizabeth Stewart Myers of Roanoke, Virginia, for sixty years the beloved wife of Thomas Edgar Myers, passed away on Tuesday, April 27, 2021, after a months-long battle against cancer.
Nancy was born on May 4, 1939 to Ralph and Thelma Stewart in Forsyth County, North Carolina. The oldest of three girls, Nancy grew up in Winston-Salem and attended Coker College. She met her husband, Tommy, in 1956 and they were married in 1961. Together they settled in Roanoke, Virginia, where they raised their three children.
During their married life, Nancy and Tommy traveled worldwide, an endeavor which Nancy loved. She shared this love of travel with her grandchildren, planning trips up and down the east coast. Nancy returned to college earning a bachelor's degree from Roanoke College and a Master of Education from Radford University.
Nancy worked for Roanoke County Public Schools for nearly three decades, first as a teacher, then a reading specialist, and finally as the assistant principal of Oak Grove Elementary School. She was the consummate educator, striving both to constantly improve her own knowledge and to share her expertise and experience with her fellow teachers. She was a perennial attendee of the Margaret Sue Copenhaver Institute at Roanoke College and served on the board of the Virginia State Reading Association.
Nancy was also dedicated to educating herself and others in God's word. She used her profound knowledge of scripture to mold her own life to God's plan and to offer comfort and advice to her many friends and family.
As the matriarch of her extended family, Nancy was famous for hosting lavishly decorated Thanksgiving dinners which included plays and readings in which she and her grandchildren performed. She loved cooking and often invited friends to enjoy her beautiful dinner parties and picnics. For many years, Nancy hosted her grandchildren for "Cousin Week," the memories of which they all cherish fondly. Nancy left a personal "Mission Statement" in which she wrote that she "desired a family that loves, values, appreciates, supports and respects each other." Her family will take comfort in the fact that those aims were achieved as Nancy was loved, valued, appreciated, and respected by the family she tirelessly supported in life.
Nancy is survived by Tommy and their three children, Tem Myers (wife, Britt) of Rocky Mount, North Carolina, Stewart Myers (wife, Elizabeth) of Richmond, Virginia, and Anna Myers of Charlottesville, Virginia. Among her greatest joys were her six grandchildren, Aidan, Greta, Eliza, Sophie, Bess, and Dempsey. Also surviving are her two sisters, Alice Michalove of Winston-Salem, North Carolina, and Ellen Robertson (husband, Jimmy) of Charleston, South Carolina, along with numerous nieces and nephews.
In lieu of flowers, please consider donating to the Nancy Myers Memorial Reading Fund, c/o Oakgrove Elementary School, 5005 Grandin Road Extension, Roanoke, VA 24018. Arrangements entrusted to Oakey's Funeral Service – South Chapel, Roanoke, Va., (540) 989-3131. Online condolences may be expressed to the family at www.oakeys.com.