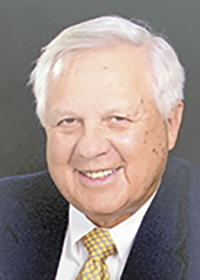 Paul David "Dave" Toney, age 76, of Forest City, passed away Sunday, April 4, 2021.
Dave, as he was known, was born on July 21, 1944 in Rutherford County and was the son of the late T. B. and Maude Holland Toney.
Dave served his country honorably in the United States Air Force.
In addition to his parents, he was preceded in death by brothers, O. Sidney Toney and Donald Grayson Toney.
Survivors include his wife of 52 years, Judith H. "Judy" Toney of the home, his daughters, Holly Toney Bridges and husband Josh of Forest City, Amanda Toney Bennett and husband Russ of Ellenboro, and Sally Toney Raya and husband Stephen of Ft. Gordon, Georgia. There are nine grandchildren and one great-grandchild.
A memorial service was held in the First United Methodist Church of Forest City. Military honors were accorded by the Rutherford County Honor Guard.
Memorials may be made to Rutherford Life Services, 230 Fairground Road, Spindale, NC 28160.