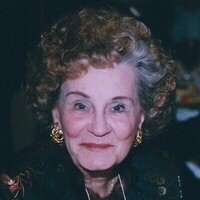 Betty Warren Wyman, 96, died Monday, April 26, 2021, after an illness.
Betty was born in Florence, a daughter of the late Joseph Jennings Blackmon and Jessie Hamilton Blackmon. She graduated from Coker College with a Bachelor of Arts in English and History, and later with a Masters (plus 30) from Francis Marion in Education. She worked as a teacher in public schools in Florence and Hampton, VA. She was the widow of Col. Henry Roydon Wilson Wyman, and was a devoted military wife.
Betty was an active member of Central United Methodist Church, where she served as a Disciple Teacher, a Stephens Minister, and on the Altar Guild. She was also a member of the Daughters of the American Revolution, the Quill Club, the Sidney Lanier Club, the Florence Symphony Orchestra Guild, the Florentine Society, and the Chopin Music Club.
Betty was predeceased by her son, Henry Roydon Wilson Wyman, Jr.; her daughter, Betty Warren Wyman; and two brothers, Joseph Jennings Blackmon, Jr. and Wylie Hamilton Blackmon.
Survivors include her daughter, Caroline Wyman Edwards (Walter) of Darlington; her grandson, Henry "Hank" Coker Edwards (Madison Cooper) of Darlington; her granddaughter, Hannah Edwards Maynard (Matthew) of Marion, NC; her caregiver, Cora Lee Hyman; her sitter, Janice Williams; and dear friends, Jean Waters and Tricia Streett.
Funeral services will be at 2:00 pm, Thursday, April 29, 2021, at Central United Methodist Church directed by Waters-Powell Funeral Home. Burial will follow at Mount Hope Cemetery.
Memorials may be made to Central United Methodist Church or McLeod Hospice.