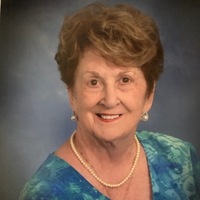 There are those who bring a light so great to the world that even after they have gone, the light remains. Mary Ann Elvington was one of those people.
Mary Ann Bullock Elvington passed away into the arms of her Lord and Savior and now dwells in her heavenly home. She was born in Mullins, South Carolina, the daughter of the late Margaret and Hubert Bullock.
Mary Ann graduated from Floyds High School in 1959 and attended Winthrop College until her Junior Year. After she and Randolph (Sonny) Elvington were married on August 24, 1960, she graduated from Coker College in 1964. She received her Master's in Education in 1990 from the University of South Carolina. After teaching for approximately thirty years in the public school system, she retired giving her more time for her church, her family and friends and traveling.
Mary Ann and Randolph (Sonny) were blessed with three wonderful children, Margol Elvington, Harold Elvington (Sharon), and Hugh Elvington (Susanne). They also have five special grandchildren, Courtney Lytton, Madison and Bailee Elvington, and Hughes and Caroline Elvington. She also leaves behind a brother, Dr. Huey Bullock (Valerie) of Augusta, Georgia, that she loved very much and was so proud of. She is also survived by her precious canine babies, Charlie and Heinz.
She loved her Lord and family. Being with her children was her greatest pleasure. Serving the Lord and teaching at several churches in the area was a special privilege, and she was currently an active member of Mt. Olive Baptist Church. Traveling to all fifty states of the United States was completed. Now she has made her final trip home.
A service to celebrate her life will be held at 7:00 p.m., Monday, April 5, 2021 in the chapel of Meares Funeral Home. The family will receive friends at the funeral home following the service. The family will lay their mother to rest in a private committal service.
In lieu of flowers, the family suggests that memorials be made in her memory to the Old Bullock Cemetery Section of Spring Branch Baptist Church Cemetery, 6710 Church Loop, Nichols, South Carolina 29581.
An online guestbook is available at www.mearesfh.com.
Mary Ann is in the care of Meares Funeral Home.