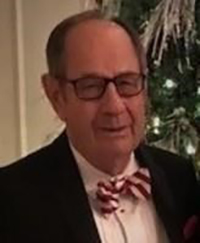 Columbia, South Carolina – During the early morning hours of the 21st of March 2021, Dale J. Krueger of Columbia passed away in his home. He was the son of the late Donald and Helen Krueger of Carlsville, Wisconsin. Dale was born in Door County, Wisconsin, on July 12, 1939. He always preferred to simply remark that he was "born and raised on a small dairy farm in Door County."
Known as an outstanding athlete in High School, he attended Carroll College in Wisconsin on an athletic scholarship. At Carroll, he earned a degree in mathematics and later earned a master's in mathematics from the University of South Carolina. He also pursued additional graduate work at the Universities of Wisconsin and Maine.
Locally, he is remembered as an outstanding teacher and mentor by his former students and fellow teachers at Irmo High School where he taught math, oversaw the Math Club, and taught A.P. Calculus. A few individuals might even remember him teaching select courses at Columbia College after his retirement. He was the State winner in the 1984 and 1985 Presidential Awards for Excellence in Science and Mathematics Teaching program.
He was a long-time member of Rockbridge Club where he absolutely loved all his "Tennis Friends" and the social network that surrounded the game. Golf was his other sport of choice and he played multiple rounds each week and was a "Ranger" at Oak Hills Golf Course for many years. Until recently, it was not uncommon for him to play golf in the morning and "Super-senior Tennis" that same night.
He and his wife were long time members of the Saraband Dinner Dance Club where they were often the first to arrive and the last to depart. He loved his friends.
He is survived by his wife of 50 years, Rebecca; sons Jon and Karson; sister Donna Van Duyse; brothers Dean and David.
He was blessed with a loving family, true friends and an unshakable belief in his Church and Country.
A memorial service for Mr. Krueger will be held 4 o'clock Friday, March 26th at Forest Lake Presbyterian Church, 6500 N. Trenholm Rd, Columbia, SC with Rev. Dr. Ellen Fowler Skidmore officiating. Interment and a brief visitation will be held in the church memorial garden following the memorial service.
For those unable to attend, a livestream of the service will be available on Mr. Krueger's tribute page at ShivesFuneralHome.com. All are invited to attend; however, masks and social distancing are required to create a safe environment for all.
In lieu of flowers, the family requests that donations be made to Forest Lake Presbyterian Church Memorial Garden or Harvest Hope Food Bank, 2220 Shop Rd, Columbia, SC 29201.
Memories and condolences may be shared at ShivesFuneralHome.com.