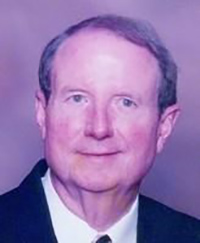 John Patrick "Pat" Henry, Sr., age 76, of Long Avenue Ext., passed away Thursday, April 22, 2021.
Mr. Henry was born August 5, 1944 in Conway, a son of the late George Hugh Henry, Sr. and Bessie Stalvey Henry. He was predeceased by a son, John Patrick Henry, Jr. He graduated from Conway High School, receiving the Outstanding Alumnus Award in 2012. After graduating from Spartanburg Methodist College and Wofford College, he served four years in the United States Air Force during the Vietnam Conflict.
After an honorable discharge, he attended Baylor University Law School and graduated from University of South Carolina Law School. He then joined the John Thompson Law Firm in Conway, SC, which later became the Thompson and Henry Law Firm. He remained there until he retired after 45 years. He served many years as the Horry County Attorney and was President of the Horry County Bar Association in addition to holding several positions at the State Bar level.
He was currently serving as a trustee of Spartanburg Methodist College and was a former trustee of Coker University. He was a devoted member of Trinity United Methodist Church and served the church in multiple capacities from trustee to Sunday school teacher, but none so special as leading the Purpose Driven class of young couples. He was also dedicated to the building and growing of Garden City Chapel and Retreat, serving as a trustee for over forty years.
His retirement years were filled with his love of fishing, hunting and gentleman farming.
Surviving are his wife of 54 years, Marvis Wiggins Henry, one daughter, Amy M. Henry of Charlotte, NC, one brother, George Hugh Henry, Jr. and his wife, Sherry of Columbia, SC.
Memorial services will be held at 1:00 PM Monday, April 26, 2021 at Trinity United Methodist Church with Rev. Tresco Shannon, Rev. Dr. Robert Shaw and Rev. Carl Hunsucker officiating. Due to Covid restrictions, seating will be limited, and face masks and social distancing will be required. The service will be live streamed on the Trinity United Methodist Church Facebook page (Trinity UMC Conway).
In lieu of flowers, memorials may be sent to Trinity United Methodist Church Building Fund, P.O. Box 1072, Conway, SC 29528 or to Garden City Chapel, 316 Dogwood Drive, North, Murrells Inlet, SC 29576.