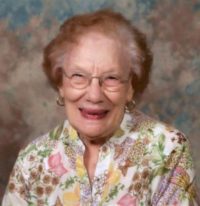 Gwendolyn Haynes Hutchison, 98, passed away on March 7, 2022, at Mission Hospital in Asheville.
She was a native of Haywood County and the daughter of James Orville and Vera Holland Haynes. She graduated from Clyde High School, class of 1941, and attended Coker College in Hartsville, South Carolina, where she earned a BA in English, class of 1945.
In 1946 she married William Franklin Hutchison in Atlanta, Georgia, where she worked at Rich's department store before the couple moved to Charlotte to raise a family. After retirement, they returned to Haywood County.
Gwen was a caring and dedicated homemaker and mother. She had a quiet dignity and happy grace, marked by love and enduring faith. She loved her family and had an affection for wildflowers, reading, and gardening. She was kind toward others, tender-hearted, and gentle. She was a joyful member of the First Presbyterian Church of Waynesville.
She was preceded in death by her husband, William of 68 years, and three brothers; Kenneth, Perry, and Gene Haynes. She is survived by one daughter, Ann Hutchison Carson of Harrisburg, North Carolina; two sons, Michael Haynes Hutchison (Janet) of Matthews, North Carolina, and James Lee Hutchison (Paula) of the home; three grandchildren, Kristin Carson Krumpos (James Steven) of Tucson, Arizona, William Paul Hutchison, and James Ian Hutchison; and two great-grandchildren, Carson James, and Abigail Jean Krumpos.
Memorials may be made to the First Presbyterian Church of Waynesville Welcome Home Building Campaign, 305 N. Main St., Waynesville, NC 28786.