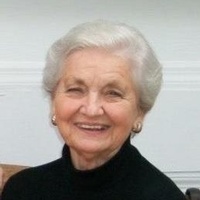 An angel on Earth is now an angel in Heaven. Nancy Jo Strickland Magera, 84, of Mullins passed away peacefully at McLeod Regional Medical Center on Sunday, August 26, 2018. She was born in Nichols, South Carolina on December 19, 1933, the daughter of the late Herey and Christine Harrelson Strickland.
Nancy Jo grew up in the Pleasant View Community, attended Floyds High School and later graduated from Winthrop University. She returned to the Mullins area, and here she met her beloved George. After George's third proposal, she finally said yes. They were married in 1956 and remained married for the past sixty-two years. She was not meant to spend a day without the love of her life, and she didn't. She worked by George's side in the family business, Mullins See and Hear Shoppe, for forty years. Love is defined by the time shared between Nancy and George. Anyone who knew them knew the unique love that they shared. She also loved gardening and flowers, she had a special love for her grand dog, Yogi, but her greatest love was for her family. Peace is defined by the way she left this earth. Those she leaves behind eternalize her grace, beauty and love.
Nancy Jo was predeceased, in addition to her parents, by two brothers, William and Jack Strickland, a sister, Azalea Carmichael, and a granddaughter, Laure Taylor.
She is survived by her beloved husband, George Magera of Mullins; two daughters, Nancy Sechtin (Alan) of Florence and Christine Taylor of Surfside Beach; a sister, Ouida Sarvis (Wayne) of Florence; seven grandchildren, Joseph P. Taylor, George B. Taylor, Sean M. Taylor, Daniel R. Sechtin, Bridget M. Taylor, and Carole J. Steele (Shane); two great-grandchildren, Jackson and Griffin Steele; numerous nieces and nephews, and great-nieces and nephews.
The family will receive friends from 5:00 p.m. until 7:00 p.m., Tuesday, August 28, 2018 at Meares Funeral Home in Mullins. Funeral services will be held at 11:00 a.m., Wednesday, August 29th in the chapel of the funeral home with Reverend Jim Kirkland officiating. Interment will follow at Devotion Gardens.
If you would like to remember Nancy Jo, the family suggests that memorials be made in her memory to Mullins First Baptist Church, P.O. Box 443, Mullins, South Carolina 29574.