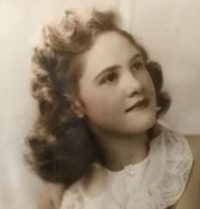 October 15, 1931 – November 28, 2017
Iris LaRue Grantham Smith, 86, of Camden, died Tuesday, November 28, 2017. Born on October 15, 1931 in Bishopville, SC, she was the daughter of the late Hewitt Edward Grantham and Gertrude Leona Fields Grantham. Iris was a Magna Cum Laude graduate of Coker University and received advanced degrees in education from Appalachian State University. She taught regular and special education students in Chesterfield and Kershaw Counties for 29 1/2 years, inspiring both her students and fellow educators, having once been recognized as the Reading Teacher of the Year. She loved spending time with her family, gardening, cooking, couponing, and crafting. Iris was a devout Christian and generous to all she met.
She is survived by her husband, Howard Neil Smith; children, Howard Neil Smith, Jr. (Susan) of Smyrna GA, Kevin L. Smith (Clay Burnette) of Columbia, Vincent DuPre Smith (Victoria "Tori") of Bethune, Patricia Noell Anderson (Clay) of Columbia, and Charles Edward Smith (Allison) of Camden; grandchildren, Michael Smith (Vinitha), Justin Smith, Chad Smith, Joshua Smith, Brice Anderson, Zachary Anderson, Julianna Smith, Layton Smith, and her brother Synkler Grantham (Sylvia) of Cheraw. Besides her parents, Iris was predeceased by 2 brothers and 1 sister.
Kornegay Funeral Home, Camden Chapel, is assisting the family. Online condolences may be sent to the Smith family by visiting www.kornegayfuneral.com.
A private service will be held at a later date. In lieu of flowers, memorials may be made to the Thiel-Meyer Pet Adoption Center, 128 Black River Road, Camden, SC 29020, or to St. Jude's Children's Hospital, PO Box 810, Memphis, TN 38101.