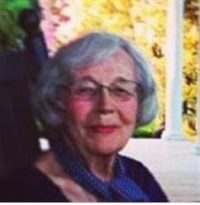 December 19, 1025 – December 2, 2017
Funeral service for Mrs. Michal Millen Baird, 91, who died peacefully on Saturday, December 2, 2017, at the home of her son, Dick Baird, Jr., will be announced by Brown-Pennington-Atkins Funeral Home. Coker College awarded Michal the Algernon Sidney Sullivan Award, an award for distinguished alumnus, and in lieu of flowers, the family requests donations are made in her honor to the Michal Baird Coker College Scholarship Fund, 300 East College Avenue, Hartsville, SC 29550.
Michal was born on December 19, 1925, and grew up in Hartsville, SC and was the oldest child of Horrie Dennis Millen and Dorothy Segars Millen. She graduated from Hartsville High School, where she was valedictorian and also voted Best Looking in her class.
She continued her studies at Coker College in Hartsville, graduating in 1946. Following college, she worked with her Aunt, Lucile Kerfoot, an interior designer. She often accompanied her aunt to New York City on business trips. While there, they enjoyed Broadway plays and Michal did her best to see Frank Sinatra perform whenever he was in town.
She married Richard Lucas Baird in 1949. Together they had four children, and much of Michal's young married life was spent raising her children and taking them to various competitive events, whether it be track, baseball, basketball or church sword drills. When her children got older, she went to work at Sonoco in Hartville.
She was predeceased by her parents, a sister, a brother and her beloved husband of 67 years. She is survived by a brother, Fred Millen and her children, Richard (Dick) Baird, Jr. (Diane), Michal (Jim Brown), Susan (David Poulnot) and David (Becky).
She is also survived by eleven grandchildren: Lucas, Taz, and Rosemary Baird; Baker Brown; David, James and Hannah Poulnot; and Wills, Jane, Becca and "Boo" Baird. She is also survived by several special nieces and nephews.
During the last few years of her life, Michal was challenged by two neurodegenerative diseases, but due to her devoted family and especially her beloved daughter-in-law Diane, she died comfortably and peacefully at her son, Dick's home.