Fowler Rogan Rogers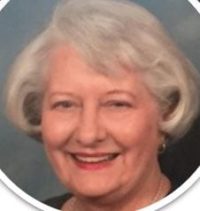 August 30, 1934 – January 29, 2018
Fowler Rogan Rogers, 83, of Mullins passed away Monday, January 29, 2018. She was the beloved daughter of the late William Anderson Rogan and Martha Rowell Rogan of Mullins.
Fowler was born in Florence, and grew up primarily in Kingstree. She attended Columbia College for a year, Winthrop for a year and finished her Bachelor of Arts at Coker University with an emphasis in education and music. She later attended Francis Marion University where she received her Masters of Arts in Education. Fowler dedicated her life to the four loves of her life: Her God, her family, her classroom students and her piano students. For her God, she was pianist at Macedonia United Methodist Church for decades. Truly it was the joy of her life to be a part of the music ministry at the church where she lived out her entire adult life. For her family, she dedicated herself to being the most loving wife and mother any husband and son could have. She married David Bruce Rogers on June 17, 1962 at Macedonia United Methodist Church. Their fifty-five year marriage yielded their only child, David Gregory Rogers. Together they sacrificed so much to help him through Pee Dee Academy, The Citadel, Sydney University and the University of Georgia Law School. Fowler dedicated herself in every aspect to putting her family above herself, even down to the final days of her life. For her classroom students, Fowler taught public school primarily in the elementary years, for thirty-three years. Teaching was her true labor of love and nothing brought her greater joy and happiness than watching her students go on to succeed in life. For her piano students, Fowler truly found her passion. She loved instilling her love of music in young students, knowing that it would be something they would carry inside of themselves for the rest of their lives. Her students routinely received awards and superlatives under her watchful eye. Her life is marked by the enormous impact she made in the lives of her family and countless students both in the classroom and on the piano bench. She will be missed by all who loved her, comforted only by the certainty in their eternal reunion in the presence of Jesus Christ.
Fowler was predeceased, in addition to her parents, by two infant daughters, Polly Ann Rogers and Jill Amanda Rogers, and a sister, Billie Jean Larrimore
She is survived by her husband, David Bruce Rogers of Mullins; her son, David Gregory Rogers and his wife, Teresa, of Senoia, Georgia, and her only granddaughter, Meredith Cynthia Rogers of Atlanta, Georgia.
Funeral services will be held at 2:00 p.m., Thursday, February 1, 2018 at Macedonia United Methodist Church in Mullins. The family will greet friends in the sanctuary following the service. A private family burial will be held later in the day. Fowler is in the care of Meares Funeral Home of Mullins.
If you would like to remember Fowler, the family suggests that memorials be made in her memory to Macedonia United Methodist Church, 402 North Main Street, Mullins, South Carolina 29574.
An online guestbook is available at www.mearesfh.com.