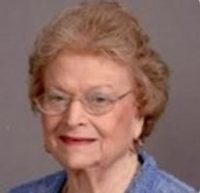 February 24, 2018
Elizabeth Patrick Gnann passed away on Saturday, February 24, 2018 in Savannah, GA. Elizabeth (known to all as Lib) was born in Columbia, SC in 1929 and grew up in Smoaks, SC. After graduating from Coker University, she worked as a school teacher and music teacher (piano and voice). She married the love of her life, John W. "Jack" Gnann in 1951. The couple moved to Savannah in 1955 where they raised their 3 children and shared 57 years of marital joy. Lib was a very active member of St. Paul's Lutheran Church and loved singing in the choir. She served for many years as a volunteer at Memorial Hospital. Along with her husband, Lib was active in many local service organizations, including the Savannah Exchange Club (Exchangette), the Georgia Salzburger Society, and the German Friendly Society.
Lib was preceded in death by her husband Jack, her brother Walter M. Patrick (Columbia, SC), her sister Cora Eugenia Culbertson (Lilburn, GA), and her grandson Michael Patrick Gnann (Birmingham, AL). She is survived by her 3 children: John W. Gnann, Jr. (Helen) of Charleston, SC; Patrick B. Gnann (Lisa) and Janet B. Gnann, both of Savannah. She has 5 grandchildren: Jennifer B. Gnann and Matthew T. Gnann (Katy), both of Charleston, SC; Andrew J. Gnann of Birmingham, Al; Lindsay Gnann of Rockwall, TX; Lake G. Daigle (Kyle) of Savannah; and one great-granddaughter, Sarah Gnann.
Visitation will be held at St. Paul's Lutheran Church on Tuesday, February 27th at 10:30 am with the funeral service following at 12 Noon. Interment will follow at Hillcrest Abby East.
In lieu of flowers, the family requests that memorials be made to St. Paul's Lutheran Church, 10 West 31st Street, Savannah, GA 31401.
Published in Savannah Morning News on Feb. 25, 2018