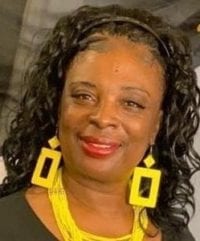 Funeral Service for Ruby Robinson will be 3 PM Sunday in the Bethel Apostolic Church. Burial will be in the Church of Christ of Christ Cemetery on Highway 76 directed by Peoples Funeral Service.
She was born in Florence County a daughter of Marion and Azalee Robinson. She departed this life on Tuesday April 20, 2021. She was a 1983 graduate of South Florence High School. She furthered her education at Florence Darlington Technical College and received her Bachelors Degree in Sociology from Coker College. She was employed at the Department of Juvenile Justice in Columbia, SC. She was a faithful member of the Church of Christ.
Survivors include: two children, Dominique Lucas and Elexis Robinson; her bonus children, Gavari Richardson, Jafaskie Richardson, Zaeydah Wright and Te'Lik Moye; her parents, Marion and Azalee Robinson; a brother, Jackie Robinson; seven sisters, Shirley (David) Lockett, Julia (Rick) Taylor, Lillian (Mack) Douglas, Lisa (Theodore) Moye; Frances Robinson, Etheleen (Phillip) Gurley and Kathleen (Arvin) Bacote; a special nephew, Gafaskie Richardson; many other relatives and friends.