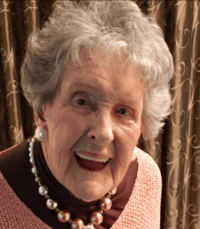 Frances Corinne Boyd Hunter was born on November 22, 1924, in Charlotte, North Carolina. She passed away at home in Pine Bluff, Arkansas on December 14, 2021, surrounded by her loving family.She leaves behind her children Sharon Braswell (Tommy), Martha Hunter Guesman (Stephen), and Roy "Hunt" Hunter, Jr. (Rhonda), grandchildren Hunter Norton (Courtney), Winfrey Norton, Marisa Hunter, and Leah Braswell (Erica), great-grandchildren Lawson and Nash Norton, Ross and Reid Braswell, 10 nieces, a nephew, and many great-nieces and nephews. She was preceded in death by her parents Irma Ray and Basil Manly Boyd, Sr., brother Basil Manly Boyd, Jr., and beloved husband Roy Wilson Hunter, Sr.
In 1942, Corinne graduated from Central High School in Charlotte. She attended summer school at Wake Forest College for three summers. She also went to what was then Coker College for Women in Hartsville, South Carolina and graduated in 1945 with a degree in biology and minors in French and religion. After completing medical technology training, she worked for several years as a laboratory technician. While working at Presbyterian Hospital in Charlotte, Corinne was introduced by a coworker to her brother, Roy Hunter of Weddington, North Carolina. Corinne and Roy were married on September 3, 1949, in Charlotte. They moved to Raleigh where Roy was a senior at North Carolina State University.
Following his graduation in June 1950, they moved to Georgetown, South Carolina, where Roy began his 35-year career with International Paper Company. His career led them to Pine Bluff, Malvern, and Mobile before returning to Pine Bluff. Corinne was a loving and wonderful wife, mother, grandmother, great-grandmother, and friend. She raised her family, as she was raised, with a focus on church and community involvement.
Corinne will be remembered as a gracious hostess who always found a way to bring people together. Her full social calendar over the years included playing bridge, dinner club, Bess Jenkins, water aerobics, and most recent gathering with the ladies at Trinity Village for afternoon chats. She had a lifelong desire to learn, from studying the stock market with the Million Dollar Investment Club to participating in the DAR to bird watching with the Audubon Society to meeting with the genealogy club to taking community college courses on computers and Spanish later in her life.
Corinne always found a way to make people feel special and valued. She helped establish the Bargain Box, which was a resale shop whose proceeds benefited Youth Home Inc. in Pine Bluff. She was a Girl Scout leader for years and had an influence on many young girls from various socioeconomic backgrounds. She enjoyed roughing it on Girl Scout campouts, as well as camping with her family. The beaches of South Carolina were an important part of Corinne's life since childhood.
Later in life, she and Roy also enjoyed time on Lake Hamilton and traveling in the U.S. and abroad. Most recently, she enjoyed watching birds and other wildlife in her backyard at Trinity Village. Corinne's faith was firm and unwavering. She was a dedicated member of First Presbyterian Church, where she faithly attended Sunday School, once served as President of the Women of the Church, and was a circle leader for many years. Even during the pandemic, she actively participated in worship services and Bible study via Zoom.
She was an ordained deacon and elder, and took courageous stands based on her beliefs that evolved over her long, blessed life. Corinne's life will be celebrated with a memorial service on Tuesday December 21, 2021, at 2:00 p.m. at First Presbyterian Church by Ralph Robinson and Son Funeral Directors. A reception will follow in McColgan Hall at the church. Masks will be required. In lieu of flowers, memorials may be made to First Presbyterian Church, 717 West 32nd Avenue, Pine Bluff, AR 71603; The Roy W. Hunter Scholarship in Paper Science & Technology Endowment, NC State University, Gifts and Records Management, Campus Box 7474, Raleigh, NC 27695.