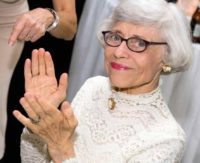 Mary Elizabeth "Beth" DuBose Cottingham, 90, widow of Walter Carlisle Cottingham, D.V.M., died peacefully at home in Kingstree Wednesday, January 12, 2022.
Mrs. Cottingham was born July 1, 1931, in Florence, SC, the only child of the late David Cousar DuBose and Possie Burgess DuBose. She grew up in Sardinia, SC, in Clarendon County. Beth graduated from Gable High School Class of 1949 as the first 12th-grade class. She was attending Coker College in Hartsville, SC in March of 1950 when she was stricken with Polio and spent a year in Warm Springs, GA, coming home in March of 1951.
She reentered Coker in the Fall of 1951and graduated in 1955. Beth graduated from Union Presbyterian Seminary, Richmond, VA, in May 1957, with a Master of Arts degree in English Bible. In August of 1958, Beth married Walter Cottingham. While Dr. Cottingham attended Veterinary School at the University of Georgia, Mrs. Cottingham worked as secretary to the Counselor of Freshmen men. In 1961-62 when the couple moved home to Kingstree, Beth taught at East Clarendon High School. From 1962 to 1980, she taught History and Bible at Kingstree High School.
She was named Teacher of the Year in 1966. For several of those years, Beth worked as a part-time assistant to Guidance Counselor, Elizabeth Scruggs. A unique feature of Kingstree High School was that she taught a Bible Class in the public schools with no state funds utilized. Local churches contributed to the fund which paid that part of her salary. After retirement, she taught briefly at Williamsburg Technical College. Mrs. Cottingham was an active member of Williamsburg Presbyterian Church where she was an ordained Elder, served as a women's Bible teacher, and served on a variety of committees.
There will be a private family burial with a memorial service to be held at a future date.
Memorials may be made to Williamsburg Presbyterian Church, 411 N. Academy Street, Kingstree, SC 29556. Online condolences may be sent to the family at www.WilliamsburgFuneralHome.com.