Carolyn Tiller Newsom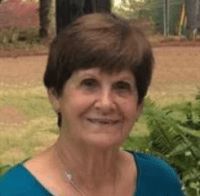 A Celebration of life for Mrs Carolyn Tiller Newsom, 79, will be held at 4:00 p.m. on Monday, September 16, 2019 at Kalmia Gardens. The Rev. Chris Pierce will officiate and the family will receive friends following the service. Memorials may be made to the Darlington County Master Gardener Association, 1624 W. Carolina Avenue, Hartsville, SC 29550.
Mrs. Newsom entered into rest on Friday, September 13, 2019. Born in Darlington County, SC, she was a daughter of the late J. E. Tiller and the late Esther Tiller King. She graduated from Coker College in 1965 with a B. S. in Business and was a teacher for 28 years at Hudgens Academy in Lynchburg, SC. She was an active member of the Darlington County Master Gardener Association. She loved flowers and enjoyed sharing her garden with everyone.
Surviving are her children, Natalie (Scott) Bedenbaugh of Hartsville, SC, Andy (Lynn) Newsom of Hartsville, SC, Karen (Steve) Miles of Anderson, SC; sisters, Anna Laura McElveen of Hartsville, SC, Anne (Gary) Tyner of Hartsville, SC, Connie Wise of Orlando, FL; sisters-in-law, Sarah King of Charlotte, NC, Ginger White of Columbia, SC, Ros (Jerry) Blackwell of Summerville, SC; grandchildren, Zachary Bedenbaugh, Joshua Bedenbaugh, Daniel Miles, Ben Miles, Kennedy Newsom, Truman Newsom; great-grandchild, Avery; numerous nieces and nephews.
She was preceded in death by her husband, John Harry Newsom; sister, Reda (Donald) Williams; sister-in-law, Miriam (Ed) Carter; brothers-in-law, Jack McElveen, Ned King, Bob White.
Brown-Pennington-Atkins Funeral Home is caring for the family.