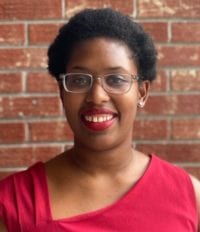 Areyonna Keels is the current Bilingual Victim Advocate at People Against Rape (PAR) and the Coummunity At-Large Representative for the Charleston County Criminal Justice Coordinating Council (CJCC) in Charleston, South Carolina. She graduated from Coker University in 2015 with a B.A. in Spanish. Before joining the PAR team, she worked as the AmeriCorps VISTA for PASOs' Tri-County team helping provide resources to local Hispanic and Latinx communities. She has also worked as an ESOL teacher in Chile, Nicaragua, and the Dominican Republic..  Areyonna volunteers with Charleston Pride and My Sister's House (local domestic violence shelter), member of Charleston Tri-County Sexual Assault Response Team, member of Tri-County Human Trafficking Task Force, member of MUSC's Healthy Families of America Advisory Board, and member of Dorchester County Human Services Coalition.
She has been a  Certified Victim Services Provider since 2019.
 In December 2020 Areyonna will have successfully completed law school at Charleston School of Law and will continue connecting people in her community to resources and creating social change through outreach and advocacy.
While at Coker Areyonna  was on the women's volleyball team 2011-2012 and Coker Enactus from 2012-2015. She also taught SAT/ACT Prep courses to local high school students.