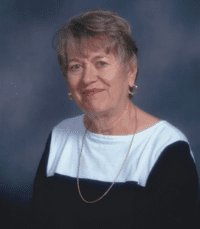 My mother, Virginia Tomlinson MacKinnon, was uniquely herself, and no obituary can capture the totality of her personality. Simply put, she was many things to many people.
"Ginger" was the youngest daughter born to Luther and Ethel Tomlinson. Ethel Virginia MacKinnon was a highly intelligent, strong-minded young woman who attended Coker College and got her Masters of Education at University of West Florida; "Ginny" was a long-long friend to several of her college roommates; Miss Tomlinson was a caring, enthusiastic and creative teacher – many students and their parents wrote letters expressing their gratitude about her time investment and love into helping their child; Cmdr. MacKinnon's wife was an accomplished military spouse and thoroughly enjoyed the military life; "Ginia" was a devoted sister in a tight band often referred to as "The Sisters"; "Ginny-wren" was a fun, much-loved Aunt; "V" was synonymous with mom to her children; and lastly, she was a very proud "Gaga" who loved her two granddaughters dearly. Always she was known as one of God's children.
Ethel Virginia Tomlinson MacKinnon was born November 5, 1934, in Wilson, NC and died August 5, 2019, in Gulf Breeze, Florida. In between birth and death, was a life with many adventures, lessons and a huge love for her family (including sisters, nephews, nieces and cousins!) and a continuous strong belief in God and church. She made a difference in other people's lives. Well done mom.
Virginia is preceded in death by her husband, Cmdr. James C. MacKinnon III, and her son, James "Jimmy" C. MacKinnon, IV. She is survived by three children: Genie MacKinnon Flowe (John) of Raleigh, NC; Richard Tomlinson MacKinnon (Joanna) of Panama City, FL; and John Berry MacKinnon (Sheena Barron); and two grandchildren, Amy Olivia MacKinnon and Alisa Grace MacKinnon, as well as several nieces and nephews to whom she was close.
A memorial service will be held at St. Francis of Assisi Episcopal Church in Gulf Breeze, Florida at 10:00 a.m. Friday, August 23rd, with a reception following the service.
In lieu of flowers, and in memory of Virginia's love of God and church, the family requests donations be made to St. Francis of Assisi Episcopal Church, 1 St. Francis Drive, Gulf Breeze, FL 32561, or St. Luke's Episcopal Church, 4362 West Lafayette Street, Marianna, Florida, 32446.