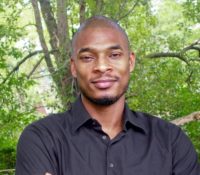 Terrance Hayes, winner of the 2010 National Book Award and an English professor at the University of Pittsburgh, has been named The New York Times Magazine's poetry editor.
Mr. Hayes, 45, the weekly publication's third poetry editor, will choose poems and write brief introductions for them. He begins his role next month.
Born in Columbia, S.C., Mr. Hayes studied painting and English at Coker University in Hartsville, S.C., and was an Academic All-American on the men's basketball team. He graduated from the University of Pittsburgh in 1997 and taught in Japan, Columbus, Ohio, and New Orleans before returning to Pittsburgh in 2001. He taught for 12 years at Carnegie Mellon University before joining the Pitt faculty in 2013.
His honors include the National Book Award for Poetry in 2010 for his book, "Lighthead," and he was a recipient of a 2014 MacArthur genius grant.