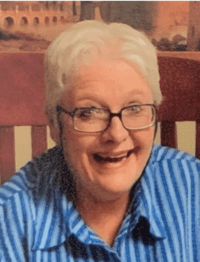 Sara McAlister Holden passed away on May 3, 2021. She was a loving and wonderful daughter, wife, mother, sister, cousin, friend, aunt, and grandmother. Sara was born May 2, 1956 in Greenwood, South Carolina to Avander Vonnie McAlister, Jr. and Dorothy Seigler McAlister. She was a graduate of West Florence High School, Coker College, and East Carolina University. Sara taught special education in North and South Carolina and attended Westminster Presbyterian Church for many years.
Sara was preceded in death by her parents and an older sister. She is survived by her husband of forty-one years, Charles A. (Duke) Holden, III; three sons, Vann and Laura Holden of Chapin, SC; Richard and Deborah Holden of Whispering Pines, NC and Zachary Holden of the home; and four grandchildren who she loved very much: Margot, Gus, Jack, and Lily.
She is also survived by her extended family including Joetta and Terrell Floyd, Mark and Lisa Blackwell, Carey and Herman Walker, Eddie and Shirley Seigler, Tommy Seigler, Dow and Janice Holden, Drew and Crystal Holden, and Jane and Tom Richardson. She also leaves behind numerous friends who treated her as family including Charlie and Sissy Spann, Dennis and Linda Sullen, Billy and Jane Serues, and Jay Altman.
A visitation will be held at Cain Calcutt Funeral Home on May 6 at 1:00 PM, immediately followed by a celebration of Sara's life at 2:00 PM.  Interment will follow at Florence Memorial Gardens.
In lieu of flowers, donations can be made to Rotary International or Special Olympics.
Sara/Mom/Grandma was a joyous woman, and she was loved by so many. We are thankful to have spent this time with her and look forward to being with her again one day.