Sara Lawton Anderson Kummer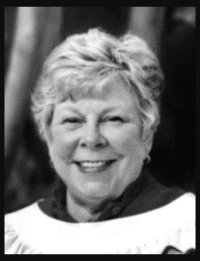 Sara Lawton Anderson Kummer, 78, widow of George Bernhardt Kummer, III, passed away Thursday, April 11, 2019 at her home.
Born in Greenwood, November 1, 1940, to the late J. Perrin and Sara Quattlebaum Anderson, she was a 1958 graduate of Ninety Six High School and a 1962 graduate of Coker College where she earned her bachelor's degree in history. She spent many years teaching in Greenwood and Ninety Six, driven by a passion for learning, a commitment to social justice, and a desire to prepare students for informed citizenship.
Sara was a member of the Episcopal Church of the Resurrection, serving the vestry, choir, altar guild, and many other ministries. Dedicated to the proposition that all humanity is worthy of respect and love, regardless of status, she supported many causes focused on the protection of human rights. As she made clear to all who debated her, Sara was a proud lifelong Democrat with a quick mind, a salty tongue, and a sly smile.
Although Sara treasured her deep roots and family home here, her curiosity led her out into the world as a young woman. She was brave, whether packing her car after graduation to move to Florida to teach or packing her house and her children to move to Liberia, West Africa for her husband's career. Sara enriched her life with a series of adventures with wonderful companions, traveling widely and seeking out ancient cultures and unique cuisines. She transformed her experience into story, entertaining friends around the table and educating students in the classroom. Sara passed her love of learning to her daughters and grandchildren, as well as to innumerable students and friends.
Surviving are her daughters, Sara Elizabeth "Liz" Anderson of Greenville and Anne Lawrence (David) Wells of Greenwood; three grandchildren, Sara Anderson Moseley, Katherine Carson Wells and Nicholas Asher Wells; one sister, Charlotte Anderson Ross of Ninety Six; one sister-in-law, Margaret Young Anderson of Ninety Six; five nephews, Charles "Chuck" Ellison Ross, Perrin Anderson "Andy" Ross (Sherri), Benjamin Carson Ross (Lori), James Perrin Anderson (Amy) and Jennings Brabham Anderson (Mary-Patton); and many beloved cousins, great-nieces and great nephews.
She was predeceased by her brother, James Perrin Anderson, Jr.
The family extends grateful thanks to her caregivers: Bebe Wesson, Kayla Bullard, Jennifer Oglesby, Katie Williams, Cindy Bordash, and the dedicated nurses of Hospice Care of South Carolina.
The family will receive friends, Tuesday, April 16 from 6 PM – 8 PM at the Episcopal Church of the Resurrection.
Memorial services will be conducted, Tuesday, April 23 at 11 AM at the Episcopal Church of the Resurrection.
A private committal will be in Mt. Lebanon United Methodist Church Cemetery.
In lieu of flowers, memorials may be made to Hospice Care of SC, 326 Montague Ave., Greenwood, SC 29646 or the Episcopal Church of the Resurrection, PO Box 3283, Greenwood, SC 29648.
For online condolences, please visit www.blythfuneralhome.com
Blyth Funeral Home & Cremation Services is assisting the Kummer family.