Rosamond "Bouka" Durban McDuffie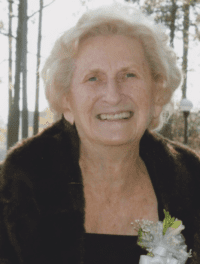 Rosamond Durban McDuffie of Aiken, descendant of two prominent local families and the daughter of an early 20th century Aiken mayor, died Sunday, March 24. She was the last surviving child of Rosa Wyman Durban and George Aimar Durban. Born in Aiken, she was a graduate of St. Angela Academy and received her bachelor's degree from Coker College in Hartsville, S.C. After her marriage to the late Duncan McDuffie, they traveled the country with his Air Force assignments. They lived in Greensboro, N.C. prior to returning to Aiken.
After her return to Aiken, she began her ceaseless work for historic preservation and conservation, working with Historic Aiken Foundation, where she served as Executive Director, and as a founder and long-time Board member of the Aiken Land Conservancy. She was active with Garden Club and the Aiken Council on Aging. She was a life member of the Green Boundary Club and a devoted communicant of St. Mary Help of Christians Church.
She is survived by her two daughters, Donna McDuffie Kahle of Clarksville, MD and Debby Hinson of Little Rock, AR; grandchildren, Duncan Kahle of Boulder, CO, Joel Kahle of Bethesda, MD, Sean Hinson and Cathleen Hinson of Little Rock, AR; great-grandchildren, McCall Hinson and Dean Hinson of Little Rock, AR.
She was named Aiken Woman of the Year in 1998. She was instrumental in the creation of Aiken's historic tour map and served for many years on the City's Design Review Board. Her many efforts in the public interest were recognized in 2013 with the creation of the Rosamond Durban McDuffie Scholarship Fund at USCA, which grants support to a history major with a demonstrated interest in historic preservation. At the establishment of the scholarship, Vice Chancellor Deidre Martin noted, "Mrs. McDuffie dedicated her life to ensuring the preservation of Aiken's historic buildings and places – in fact, I'm told that many of her friends often refer to our fair city as 'Rosamond's Aiken.'
So vivid and dynamic was her personality that no fewer than two prominent writers fashioned characters based on her in their published works.
A Requiem Mass will be celebrated at 11 AM Friday, March 29, 2019 at the old historic St. Mary Help of Christians Catholic Church, Park Ave., with The Very Rev. Gregory Wilson as celebrant. Final prayers and commendation will be private in the historic Bethany Cemetery.
Memorial contributions may be made to either the Rosamond Durban McDuffie Scholarship Fund, c/o The Aiken Partnership, 417 University Parkway, Aiken, SC 29801; or The Aiken Land Conservancy (Tree Fund), P.O. Box 3096, Aiken, SC 29802; or St. Mary Help of Christians Catholic Church, P.O. Box 438, Aiken, SC 29802.
This obituary was kindly written by personal friend, Wilkins Byrd.
The Historic George Funeral Home, 211 Park Ave., SW, Aiken, SC 29801 (803.649.6234), has charge of arrangements.
Expressions of sympathy for the McDuffie family may be left by
visiting www.georgefuneralhomes.com