Ruth Ann Lindsey Langston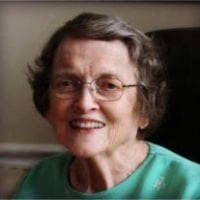 Ruth Lee Lindsey Langston died peacefully at Presbyterian Home in Florence, South Carolina on Tuesday, January 1, 2019. Lee was born and grew up in Mineola, New York, on June 24, 1928 to the late Edwin Eugene Lindsey and Kathryn Barham Lindsey. She was an only child, attended Mineola High School, and after graduation, attended Coker University in Hartsville, South Carolina. There, she met Clyde H. Langston, Jr. and they were married on August 9, 1947. Together in Hartsville, they raised their three daughters: Jean Lee, Kathy, and Lynn.
Lee was an active member of First Presbyterian Church where she served in many capacities, her favorite being her work with the children. She was a Girl Scout troop leader for many years and touched the lives of countless young women during that time. She was a wonderful seamstress, loved to play the piano, and became a good "Southern" cook. She also enjoyed playing bridge with friends and getting together with her Richardson Circle neighbors for their regular morning coffee time.
Later in life, she and Clyde enjoyed traveling to Air Force reunions all over the country, but, their favorite trips were always to see the University of South Carolina Gamecocks play.
Lee was preceded in death by her husband of 52 years, Clyde H. Langston, Jr., and is survived by her three daughters, Jean Robison (Ron), Kathy Walker (BT), and Lynn Hanes (Larry). She is also survived by her four grandchildren, Benjamin Quick, Adam Quick, Lauren Crabtree, and Lindsey Walker; her three step-grandchildren, Brad Walker, Lewis Walker, and Carla Gardner; and her three great-grandchildren, Christopher Quick, Will Quick, and Elliot Crabtree.
The family would like to thank the staff of Presbyterian Home in Florence and Agape' Hospice for their care during her long illness.
In lieu of flowers, consider making a donation in Lee's memory to First Presbyterian Church, 213 W. Home Avenue, Hartsville, SC 29550, or Agape' Hospice, 1516 W. Palmetto Street, Florence, SC 29501.
The Celebration of Lee's Life will be held at 11:00 AM on Thursday, January 3, 2019 with Dr. Dan Sansbury officiating. A visitation will follow the service in the church narthex.
Brown-Pennington-Atkins Funeral Home is serving the family.