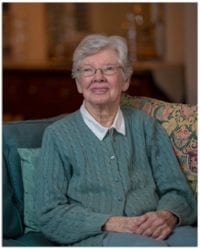 January 26, 1925 – July 18, 2018
Rebecca "Becky" Smith Webb, 93, passed away on Wednesday July 18, 2018. She was born in Stokes Bridge, South Carolina, to Harry and Katrine Smith.
She was preceded in death by her husband of 61 years, Eddie Webb. In June she quietly celebrated what would have been her 71st wedding anniversary.
She is survived by her three sons, John Edward Webb Jr. and wife Stephanie of Atlanta, Ga., Richard Smith Webb and wife Mary of St. Louis, Mo., and Thomas "Tim" Harry Webb and wife Cindy of Fayetteville; and three grandchildren Emily Alison Webb, Alexandra Caroline Webb, of Fayetteville, and Leah Ann Webb of St. Louis.
She was a loving wife and mother, and fierce competitor in everything she pursued. She was a lover of all things golf and won numerous golf tournaments in Massachusetts, Missouri, Georgia, and New Jersey. She spent her life making a home for her husband and children as the family moved across the globe. She particularly enjoyed the years she, Eddie, and the children lived in Mexico City, Sao Paolo, Brazil, Lausanne, Switzerland, and Marblehead, Massachusetts. In retirement she and Eddie moved to Fayetteville to be closer to her children and grandchildren.
She was inquisitive, bright, and not afraid to question authority. She kept many a doctor in line helping them improve their bedside manner. She was particularly adept at crossword puzzles, and completed most puzzles in minutes up until the last few days of her life. She spent time talking politics with her children.
She was most proud of her three granddaughters, Emily, Ali, and Leah. She encouraged them to follow their dreams with all their might even if that meant being far away from their grandmother.
She graduated from high school at 16 years of age. She was a graduate of Coker University, Hartsville, SC where she was valedictorian. Before she and Eddie had children, she was a teacher in Beaufort and Linden, SC.
Memorials may be sent to Circle of Life Hospice, 901 Jones Rd., Springdale, 72762