Phillystine Harkless Eaddy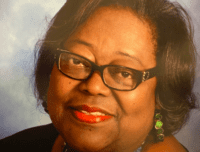 It is with profound sorrow that the management and staff of Mitchell-Josey Funeral, Inc. announces the passing of Deacon Phyllistine Harkless Eaddy of the Syracuse Community of Darlington. Deacon Eaddy transitioned from labor to reward on Wednesday, June 3, 2020 in a Florence hospice facility.
The family of Deacon Phyllistine Harkless Eaddy in consideration of the current health crisis facing our world, nation, state and local community, would love to be surrounded by your presence. They acknowledge the health risks to family, church members, friends, and particularly to those who are most vulnerable to this disease, the elderly and those with chronic health conditions and ask that those who attend the service ensure you are wearing BOTH MASKS AND GLOVES and practice social distancing. During this time, the family needs mostly your prayers and understanding. Thank you for your concern and cooperation.
Graveside service will be 12 Noon on Sunday, June 7, 2020 in Lawson Grove Baptist Church cemetery. Interment will follow.
Life's Reflections
Deacon Phyllistine Harkless Eaddy born January 29, 1947, to the late Rev. Julius C. and Ethel Lee Arthur Harkless in Darlington, SC. Deacon Eaddy passed away peacefully on June 3, 2020, at McLeod Hospice House, Florence, SC.
Deacon Eaddy accepted Christ and became a faithful member of Lawson Groove Baptist Church at an early age. Church always came first to Deacon Eaddy, and she always enjoyed all of her positions that she held Deacon Eaddy was a faithful greeter to everyone who enters into the Lord's house. Deacon Eaddy was the first to start the praise team, she was a member of various choirs, usher board, Pastor Ministry, she taught Bible and Sunday school, was a missionary, and she served faithfully on the Deacon Board Ministry. Deacon Eaddy was dedicated to her church, and her church family will greatly miss her.
Deacon Eaddy was raised in Syracuse Community where she attended and graduated from Spaulding High School in Lamar, SC. She later attended Morris College in Sumter, SC, where she was an active member of the college choir. After college, Deacon Eaddy married James Procter "JP" Eaddy, where they raised their beautiful daughter Gloria (Ronnie) Jordan together.
Deacon Eaddy worked as a substitute teacher at Spaulding Elementary School, and then she became a full-time teacher at Pine Middle School. She later became a valuable worker at McLeod Hospital in the medical records department, where she retired. She furthered her education at Coker College, where she graduated with honors in Psychology and Social Work.
Deacon Eaddy was preceded in death by her parents, Rev. Julius C. and Ethel Lee Harkless, two brothers, Jay Goodson and Leo Julius Harkless, sister, Barbara Harkless and niece, Yu'tonyia Jones.
Deacon Eaddy leaves to cherish her memories of her beautiful daughter, Gloria (Ronnie) Jordan of Suffolk VA; Sister, Judy Jones of Charlotte, NC; Sister-In-Law, Patricia Ann Harkless; A very special Aunt, Ruby Lee Garner of Darlington SC; Uncle, Rufus (Wyomia) Harkless of Baltimore MD; Two lovely grandsons Darius and Treyson Jordan both of Suffolk VA; Five Grant-Grand Children; Teniya, Tiana, Tyler, Landon and Harlem of Suffolk VA; Special nephews; Delaine "Danny" (Tanya) Daniels of Darlington, SC, TyKobi Jones, and Franklin "Speedy" Jones of Charlotte, NC; Loving nieces, Evangla (Alex) McArthur of Bishopville, SC, Latricia (Lee) Green of Darlington, Nicole Jones of Charlotte, NC, and Maya (Donnell) Slade of Columbia, SC.
After Deacon Eaddy became ill, she could always call on a very special cousin Antonio "Tony" Gardner.
Deacon Eaddy will be missed by a host of other family and friends too numerous to name whom she loved dearly.
Visitation for relatives and friends will be held at the residence, 1730 Syracuse Community Road, Darlington.
Please keep the family and friends in your thoughts and prayers.