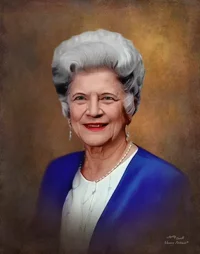 Peggy Greene Hicks, 95, completed her life of service to her dearest Lord and Savior, Jesus Christ, and made her passage into His eternal glory on April 26, 2022.
Having fully accepted the love of Christ, Peggy lived to extend that same love to others. Whether it was her husband, children, grandchildren, her extended family and church family, or the many people she met over the decades of her ministry, she left love wherever she went. Peggy was a music major from Coker College, S.C., and her incomparable voice harmonized her walk with the Lord throughout her life. She was the ultimate partner in ministry to her beloved husband of 64 years, Dr. Wade Bryant Hicks (M. Theron Rankin Professor of Missions and World Religions at Southern Baptist Theological Seminary) who passed away in 2014.
In addition to being a minister's wife (Buck Run Baptist 1950-1955), she was a missionary to the Philippines from 1955-1965 where she established the Seminary Kindergarten in Baguio. Peggy exemplified the power of grace with her joyful servanthood for over 50 years through Lyndon Baptist Church, as the Director of Friendship International, as a previous President of the Women's Missionary Union, and through the many lives, she inspired to join in the call to help spread the Good News of the Gospel. Over the years, Peggy was also honored to have hosted innumerable seminary students and internationals in her home.
Peggy will be remembered for the love and joy that she exuded. In addition to being a faithful servant to the Lord, she was a devoted and loving wife, Mother, Grandmother, Great-Grandmother, Sister, Aunt, and friend to anyone she met and she will be deeply missed by everyone that knew her.
In addition to her husband, Peggy is preceded in death by her parents, Jeffrey Otho and Lenora Glover Greene; a sister, Delores Stanley (Richard); and a brother, Lehman Greene (Ann).
Left to cherish her memory are her children, Wade B. Hicks Jr. (Marian), Bonnie Ginter (Brownie), and Dr. Lee Greene Hicks (Debbie); grandchildren, Camden Ginter, Wade B. Hicks III (Jenny), Cori Ginter Hill (Ben), Scott Hicks (Amanda), Cody Ginter (Justine) Hunter Hicks, Kaylee Hicks Gouge (Vince), and Emily Hicks; and great-grandchildren, Owen, Everett, and Lydia Hicks, Alethea, Declan, Evie, and Finley Hill, Emrie and Kaden Hicks and Olivia, Layla and Dakota Ginter.
A service to celebrate Peggy's life will take place at 11:00 am on Saturday, June 18, 2022, at Lyndon Baptist Church (8025 New La Grange Road, Louisville, Kentucky). The family invites guests to visit before the service from 9:00-11:00 am at the church.
In lieu of flowers, memorial donations may be made in Peggy's honor to Kentucky WMU Heritage Fund c/o Kentucky Baptist Foundation (PO Box 436389 Louisville, KY 40253-6389 or online at www.KYWMU.org/HF) or to Nik Ripken Ministries (PO Box 1314 Shelbyville, KY 40066-1314 or online at www.nikripken.com/donate)