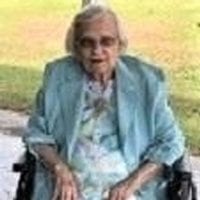 Nell Godwin Morris, 100, died at home on November 9, 2018. Her husband, Merritt E. Morris, predeceased her. She was born in Lake City, SC on July 6, 1918 to James L. Godwin and Alice McAlister Godwin.
She graduated from Lake City High School in 1936 and Coker University in 1940. After graduation, she taught school at Hanna Elementary for several years. She and Merritt came to Hemingway in 1947 and established Morris Funeral Home. They worked together for more than 40 years and had an impact on countless families. She has been a member of First United Methodist Church of Hemingway since moving to Hemingway.
After retiring, she became the director of Three Rivers Historical Society and, from her home, guided people from all over the country to research their local family lineage. Throughout her life, she had a passion for growing and nurturing beautiful flowers.
Four sisters predeceased Nell: Agnes Godwin, Leone Patrick, Uneda Lee, and Ruby Lee Bullard: four brothers: Linder, H.E., Bill and Paul. Her surviving sisters are Bernice McCutcheon of Lake City S.C. and Harriet Sue Nelson (Thomas) of Myrtle Beach, S.C.
She is survived by her three daughters: Merrinell Niemyer (Bert) of Mt. Pleasant, S.C., Loretta Reddish (Johnny) of Hemingway, S.C., and Amy Sparks (Randy) of Centerville, Ohio. Also surviving are six grandchildren: Suzanne Donnelly (John), Beth Maynor (Clay), Tamara Coker (Rex), Patricia Reddish-Barriera (Jay), Merritt Sparks (Kayla), Sydney Sparks and five great grandchildren: Kasey Martin, Laurel Maynor, Keith Coker, Alexander Donnelly, and Kate Donnelly.
The family will be eternally grateful to Doreen and Clem McFadden for their friendship and compassionate care over her last six years. We also wish to thank Dr. David Ellison and Mary McDonald PA-C for their superb care and guidance for the last 19 years.
Funeral and celebration of a well lived life will be held at the Morris Funeral Home Chapel 416 North Main Street in Hemingway, South Carolina on Sunday, November 11th at 3:00 pm. Family will receive friends for an hour before the service. Burial will follow at Garden of Devotion Cemetery 800 S. Georgetown Hwy., Johnsonville, South Carolina.
In lieu of flowers, donations may be made to First United Methodist Church, P.O. Box 6, Hemingway, South Carolina 29554 or Three Rivers Genealogical Society 154 W. Main St., Lake City, South Carolina 29560.