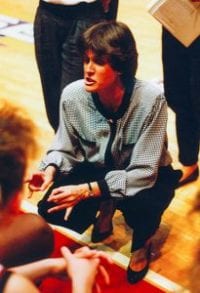 Nancy Ransome Wilson graduated from J. Paul Truluck School of Lake City High School in 1969 as a standout athlete. She continued on to Coker University where she participated in field hockey and basketball. After graduating from Coker with a degree in Physical Education, she went on to become one of the most successful college basketball coaches in NCAA history.
Wilson began her head coaching career at the College of Charleston where she compiled a record of 193 wins to 64 losses over eight years. In 1985, Wilson became the head coach at the University of South Carolina. During her first season with the Lady Gamecocks, she was named the Metro Conference Coach of the Year and repeated that honor in 1991. In 1992, Wilson was named as the USA World Junior Olympic Team Head Coach and led the squad to a silver medal in Seoul, Korea. Over her 12-year career at USC, Wilson led the Lady Gamecocks to six regular season Metro Conference titles and three conference tournament championships. Her teams also made several NCAA tournament appearances and became the first South Carolina school to win two games in the tournament. She left USC as the school's all-time winningest basketball coach with 219 victories and that record stood until last season when current Gamecock Head Coach Dawn Staley surpassed the mark. Wilson is still the all-time winningest coach at the College of Charleston.
In 1997, Wilson returned to the College of Charleston and retired in 2012. Over her 30-year career, Nancy Wilson is 18th among NCAA Division I women's basketball coaches with 542 victories.
Nancy Ransome Wilson resides in Surfside Beach, SC.