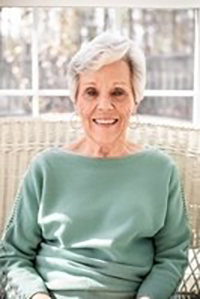 Marilyn Hedgepath Hornsby of Lexington, 79, passed away on July 28, 2021 from pancreatic cancer. She was born in Columbia, SC on April 25, 1942, the daughter of the late Marvin A. and Evalyn Lever Hedgepath. She graduated from Dreher High School, Class of 1960, and attended Coker College. She retired from BellSouth in 2000. She was a member of Lexington United Methodist Church.
Marilyn loved her family more than anything. She is survived by her husband of 10 years, Richard I. Hornsby, Sr. of Lexington. She is also survived by her son Steve Styron and wife Patty of Sandy Run; her daughter, Lesley Styron Kelly and husband Chris of Azle, TX; stepdaughter, Cindy Young Bloomingdale and husband Bill of Leesburg, VA; stepson, Richey Hornsby and wife Jennifer of Pomaria; stepson, Matthew Hornsby and wife Kristi of West Columbia. She is also survived by her beloved brother, Dr. Larry L. Hedgepath and wife Debbie of Mill Spring, NC. Marilyn leaves to cherish her memory her precious grandchildren, Jamie Styron Crapps and husband Link of West Columbia, Collin and Kaleigh Styron of Woodruff, Hunter Ferner of Honolulu, Hawaii, and Noah Styron of Sandy Run; and her great grandchildren, Hayden Kirkland and Chloe Crapps of West Columbia. She loved her step grandchildren, Brennan, Maddie, Carolyne, Zach, MJ and Leah; nephew, Dr. Andy Hedgepath and wife Liz of Columbia; niece, Kristin Hedgepath Gilchrist and husband Dan of Rockville, MD. People very special to her were her two aunts, many cousins and her best friends of over 45 years, Sandy, Brenda, Linda and Kathy. Marilyn will be missed by her dog Folly, her love for 13 years. She was preceded in death by her son, Phil Styron and step grandson, Kylen Hornsby. She was also preceded in death by her husband, Ray Young of Charlotte.
A memorial service will be held at Thompson Funeral Home of Lexington on Sunday, August 1, 2021 at 2:00pm, conducted by her brother, Dr. Larry Hedgepath. Visitation will follow the service. In accordance with her wishes, Marilyn's ashes will be scattered at her happy place, Folly Beach.
Special thanks to Dr. Katherine Ostapoff and Dr. Chelsea Stillwell and to Heart of Hospice for their care of Marilyn during this journey.
Memorials may be made to the Snack Sack ministry of Lexington United Methodist Church, 309 E. Main St., Lexington, SC 29072.