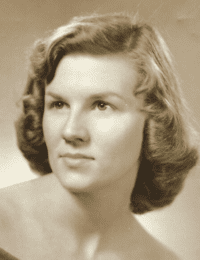 Jerry Floyd Tomlinson, 85, wife of the late Benjamin "Frank" Tomlinson, Sr., passed away, Saturday, July 17, 2021, after a long illness.
Mrs. Tomlinson was born on April 25, 1936 in Florence County, daughter of the late Randleson Allison Floyd and Alma Wilson Floyd. She attended Coker College and was a lifelong member of Olanta Baptist Church. Mrs. Tomlinson retired after 25 years of service from Fiber Industries. She was a devoted wife, mother and grandmother and loved to read.
Surviving are her son, Benjamin Frank (Susan) Tomlinson Jr. of Bluffton; daughter, Fran Tomlinson (Gene) Prosser of Olanta; grandchildren, Benji Floyd of Olanta, Brian (Hannah) Tomlinson of Charleston, Joshua (Allegra) Tomlinson of Richmond, VA; great grandchildren, Asher, Eleanor and Jordan; brother, Rudy H. (Georgia) Floyd of Olanta; and a number of nieces and nephews.
Mrs. Tomlinson was preceded in death by her son, Richard P. "Ricky" Tomlinson; grandsons, B.J. Tomlinson and Andrew David Tomlinson; granddaughters, Renee Nichole Tomlinson and Nikki Tomlinson; sister, Woody Jean Floyd; and brothers, Franklin C. Floyd and Randleson A. Floyd, Jr.
Funeral services will be 2:00 PM, Saturday, July 24, 2021, at Carolina Funeral Home Chapel, Scranton.
The family will receive friends immediately following the service, Saturday, July 24, 2021, at the funeral home.
Memorials may be made to Olanta Baptist Church, PO Box 188, Olanta, SC 29114.