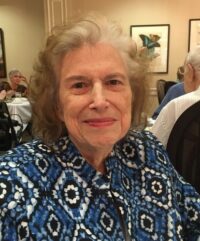 Marian Atkins Powe peacefully passed on the morning of April 30th.
Mrs. Powe was born in Latta, SC, daughter of Elsie and Marion Atkins. She attended Coker College in Hartsville, SC and, after receiving an Associate's Degree, married Carl M. Powe, Jr. of Hartsville in 1956.
Mrs. Powe was a homemaker, raising two children and maintaining the household in support of her husband's career as a U.S. Army officer, moving eighteen times in the first twelve years of marriage. She was extremely active in the military wives' clubs at each of the Army posts where they were stationed throughout the United States and Okinawa. Upon moving to Huntsville, AL in 1968 Mrs. Powe was extensively involved in numerous volunteer organizations including, but not limited to, the American Red Cross, Girl Scouts, and the Parent Teacher's Association.
Mrs. Powe was quite active in local and national service clubs such as the Huntsville Women's Club, Huntsville Hospitality Club, Daughters of the American Revolution (DAR), United Daughters of the Confederacy, The National Society Colonial Dames XVII, and The National Society Magna Charta Dames. She served in various leadership positions, including President for the local chapters of the national organizations.
Mrs. Powe was predeceased by her husband of 64 years, Carl, and survived by her daughter, Dr. Audrey Powe McDade (Mike McClellan) of Huntsville; and her son, Carl M. Powe, III (Carla) of Kiawah Island, SC.
Visitation will be held Thursday, May 4th, 6:00 – 8:00 p.m. and the funeral will be Friday, May 5th, at 11:00 a.m., both at Laughlin Service Funeral Home, Huntsville, AL. Burial will be in Maple Hill Cemetery.