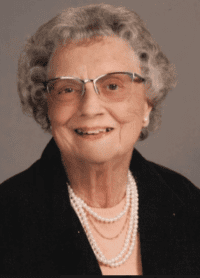 Minnie Louise Strickland lived from July 24, 1930, through October 12, 2019. Louise was born at home on Lake Swamp Road, Nichols, SC. She was the only child of Wally and Flossie Wilson Strickland. She often spoke of her wonderful childhood with a doting father and mother who met her every need. Louise attended Green Sea High School where she was Valedictorian. She enrolled in the all-girls Coker College in Hartsville, SC. Then the love of her life, Carl Strickland, swept her off her feet and proposed. The two were married for 61 years until his passing in 2010. For many years Louise and Carl were true farmers of the South, teaching their children how to respect the Earth and how to provide for their family. Louise taught in both Horry and Columbus County schools. She enjoyed her secretarial job at Columbus Regional Health Care for 29.5 years. There she made many lasting friendships. She was an avid reader and always shared or donated the books she read. Louise joined Cherry Grove Baptist Church when she was 13 and has been a supportive member, involved in WMU, served as a Girls Auxiliarys Sunday School teacher, and was the oldest Mother attending on Mothers Day this year.
Louise is survived by her children, Walter Collins Strickland, Cerro Gordo; Daniel Charles Strickland (Patsy), Cerro Gordo; Mary Ann Allgood, Whiteville. Grandchildren, Danny Strickland, Ginger Wilder, Larry Leder, Sadie Leder Elder, A. J. Leder Clingman. Great-grandchildren Kelsey Strickland, Dawson Strickland, Trevor Cole, Bailey Cole, Avie Clingman,Ella Leder, Rich Clingman, and Gemma Elder.
Funeral arrangements are being handled by Worthington Funeral Home. The funeral service will be conducted by Reverend Rusty Davis at Cherry Grove Baptist Church in Cerro Gordo, NC. The family will receive guests one hour prior to service, 2:00 pm -3:00 pm. Funeral service is at 3:00 pm on Wednesday, October 16, 2019, with burial in the church cemetery.